Otto Warmbier Was Just Freed From North Korea for a Tragic Reason
He's free, but not at all well.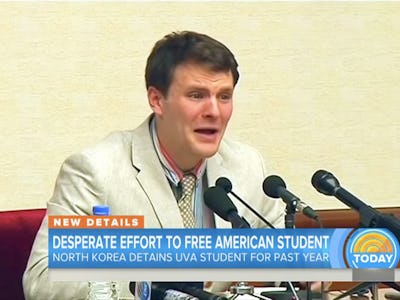 YouTube
Otto Warmbier, the 22-year-old University of Virginia student who was detained in North Korea for 17 months, was released from the country early this week, but his freedom comes for a tragic reason.
Warmbier's parents told The Washington Post on Tuesday that their son has been in a coma for more than a year since his last public appearance at a North Korean trial in March of 2016. He was medically evacuated from the country early this week and is expected to return home to Cincinnati on Tuesday.
Update [6/19/17]: Warmbier's parents have announced their son has died at age 22.
"Our son is coming home," Fred Warmbier told The Post. "At the moment, we're just treating this like he's been in an accident. We get to see our son Otto tonight."
The Post reports that North Korean officials claim Warmbier was stricken with botulism, a severe form of food poisoning, shortly after his trial in March. He took a sleeping pill after the sickness had passed and then never woke up. Warmbier was initially sentenced to 15 years of hard labor after he was convicted of "crimes against the state" for trying to take down a propaganda poster on the last day of his trip through North Korea.
Botulism can be life-threatening if not treated properly, and North Korean medical facilities are often woefully out of date. But the totalitarian country's officials claim that Warmbier's episode lasted only an hour, although they did not provide any other details about his care during the sickness and during his year-long coma.
North Korean officials had stubbornly refused to release Warmbier, despite the repeated efforts of U.S. officials acting through Swedish diplomats, who serve as intermediaries between the two hostile countries. President Donald Trump's administration had no more luck than his predecessor, and Warmbier was kept in detention — sadly, we now know he was in a coma the whole time.
"At the direction of the president, the Department of State has secured the release of Otto Warmbier from North Korea," Secretary of State Rex Tillerson said in a statement Tuesday. "Mr. Warmbier is en route to the United States, where he will be reunited with his family."
See Also:
Why Was Otto Warmbier Detained in North Korea?