Could Donald Trump Negotiate the Release of Otto Warmbier?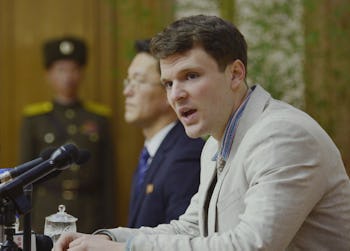 Reuters
In the days following his January 20 inauguration, Americans are hoping Donald Trump will put his powers of negotiation to good use and arrange the release of Otto Warmbier, a college student currently serving hard time for attempting to remove a political propaganda poster from his Pyongyang hotel. Warmbier has been detained since January 2. The Virginia resident was tried and convicted in March, and ultimately sentenced to 15 years of hard labor.
Update [6/19/17]: Warmbier's parents have announced their son has died at age 22.
In February, Warmbier pleaded for leniency during an emotional confession, but it's uncertain whether or not Warmbier was coerced into confessing to begin with. Many former North Korean prisoners have recanted similar confessions when given the opportunity. Either way, North Korea officially maintains the notion that Warmbier entered into the country with hostile intentions.
They believe that Warmbier is part of a larger plot orchestrated by the United States in order to create conflict. Despite the U.S. government's opposition to the sentence and claims that the punishment is inhumane, North Korea has shown no signs of leniency.
Warmbier is not alone. Kim Dong Chul is a South Korean-born U.S. citizen who was arrested in October 2015 for alleged espionage and stealing state secrets. Following Warmbier's sentencing, Kim was sentenced to 10 years of hard labor in April.
According to the Swedish embassy in Pyongyang, neither man has had consular access in months. The embassy — which acts on behalf of the United States — is making the securing of their return a top priority.
In late September, a private delegation led by Bill Richardson — former New Mexico governor and United Nations ambassador — visited the country, and plead for Warmbiers release. Members of the delegation met with North Korean officials and the Swedish ambassador.
See Also:
Why Was Otto Warmbier Detained in North Korea?
Following their visit, the delegation released a statement saying they were treated well and that the discussions went well and progress was made, but did not elaborate on what that means.
These efforts could be just for show as officials and political analysts familiar with North Korean tactics predict the country will try to use the men as some sort of bargaining chip with the next administration … Trump's administration. As such, people have taken to Twitter to try and convince Trump to bring them home after he is sworn in next year.
Previous prisoners have been released prior to serving out their whole sentences, so perhaps there's hope for Warmbier. Only time will tell.