Otto Warmbier Has Now Been in North Korean Prison for 200 Days
He probably won't serve the full 15 years, but there's no indication he'll be released soon.
by Kastalia Medrano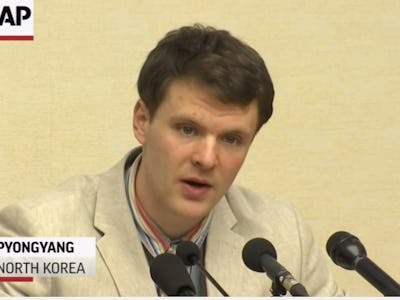 Associated Press
It's now been 200 days since American student Otto Warmbier was placed in detention in North Korea after drunkenly attempting to take a political propaganda poster from his Pyongyang hotel. Warmbier was tried and sentenced to 15 years hard labor in March, but has been detained since January 2.
Update [6/19/17]: Warmbier's parents have announced their son has died at age 22.
In February, Warmbier made a highly emotional and well-publicized apology in which he pleaded for leniency. Numerous former prisoners have recanted similar confessions when given the opportunity, detailing the means by which they were coerced.
For their part, North Korean officials have maintained that Warmbier entered the country with hostile intentions and that the prank was part of a larger effort to bring down the entire nation. His sentence has been widely condemned by the U.S. government and a series of amnesty groups, who claim the disproportionate punishment is inhumane.
His well-being and potential release date are possibly being jeapordized by the actions of former North Korean prisoner Kenneth Bae, who has spoken out against his captors and the terms of his imprisonment since his release in 2014 following two years' hard labor.
"As long as Kenneth Bae continues his babbling, we will not proceed with any compromise or negotiations with the United States on the subject of American criminals, and there will certainly not be any such thing as humanitarian action," the North's KCNA news agency said last month. "If Bae continues, U.S. criminals held in our country will be in the pitiful state of never being able to set foot in their homeland once again."
See Also:
Why Was Otto Warmbier Detained in North Korea?
Bae, who released a book about his experience in May, described conditions similar to what Warmbier may currently be experiencing — eight hours per day of hard farm labor, which led to a variety of health complications. At 21, former University of Virginia student Warmbier is younger and presumably healthier (Bae already had diabetes prior to his sentencing), but the effect of whatever portion of his sentence he'll have to carry out remains to be seen. It's likely that, like Bae, he won't end up serving the full 15 years, but there's still no indication of when his release might be.