Report: Americans Banned From North Korea after Otto Warmbier
After a tragedy, the government isn't taking any more chances.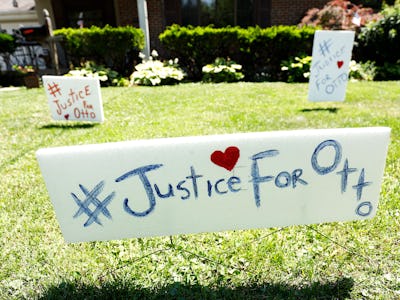 Getty Images / Bill Pugliano
The Trump Administration is planning to ban Americans from visiting North Korea, in the wake of Otto Warmbier's tragic death after 17 months of imprisonment in the reclusive totalitarian state.
On Friday, the Associated Press reported that government officials say Secretary of State Rex Tillerson will impose a "geographic travel restriction" on North Korea, a diplomatic sanction that makes it illegal to use a U.S. passport to enter the country. Previously, travel to North Korea was possible as part of a designated tour group, like the one 22-year-old Otto Warmbier was on when he was detained by North Korean authorities for allegedly committing "crimes against the state." Young Pioneer Tours, the company Warmbier traveled with, ended tours to North Korea after his death.
U.S. Officials told the AP that Tillerson's restrictions would go into effect 30 days after the State Department published a notice in the Federal Register, but did not say when that would happen. The AP reports that people violating the ban would face fines and up to 10 years in prison. The government has previously placed similar bans on travel to Algeria, Iraq, Lebanon, Libya, Sudan, Cuba, and North Vietnam at different times over the years since 1967, but currently does not prohibit U.S. passport holders from entering any country.
Warmbier was released from captivity after falling into a coma sometime during his 17 months of imprisonment. The North Korean government claimed he slipped into a coma after taking a sleeping pill to rest after a short case of botulism. But subsequent medical evaluations revealed Warbier suffered extensive brain damage, making doctors skeptical of the regime's story.
Americans like Warmbier are sporadically seized by the regime's ultra-strict police forces for minor offenses perceived as crimes against the state. Warmbier was found in an off-limits portion of his hotel allegedly trying to remove a propaganda poster from the wall, which was enough for the regime to sentence him to 15 years of hard labor. The North Korean government currently has at least three other American citizens in captivity, including Tony Kim, a university professor seized after Warmbier. Because of the risks, the State Department strongly discourages travel to North Korea, but has not expressly forbidden U.S. citizens from going there.
According to the AP, Secretary of State Tillerson had been considering an outright ban since April, as part of an effort to curb the rapidly developing North Korean nuclear program with diplomatic sanctions. Still, the State department hasn't officially announced the policy yet. But once it does, Americans will have one month before travel to the nation stops indefinitely.