North Korea Detains American College Student Otto Warmbier
Just days before it tested a nuclear device.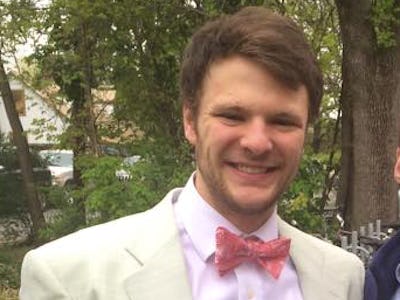 Facebook
North Korea's strange and repressive government is now holding two Americans — one, according to a Friday announcement, is a 21-year-old college student.
Update [6/19/17]: Warmbier's parents have announced their son has died at age 22.
Otto Frederick Warmbier, a Cincinnati native and University of Virginia undergrad, was arrested on January 2 at the Pyongyang airport minutes before he was set to board a flight out of North Korea following a five-day excursion to the secluded nation.
The state new agency reported Warmbier was "arrested while perpetrating a hostile act against the [North Korea] after entering it under the guise of tourist for the purpose of bringing down the foundation of its single-minded unity at the tacit connivance of the U.S. government and under its manipulation."
The China-based Young Pioneer Tours had arranged for Warmbier's trip into the country as part of its "New Year's Party Tour." On Friday, the tour company posted this message on its website:
We can confirm that the reports that one of our clients is being detained in Pyongyang are true. Their family have been informed and we are in contact with the Swedish Embassy, (who act as the protecting interest for U.S citizens), who are working with the Ministry of Foreign Affairs to address the case. We are also assisting the U.S Department of State closely with regards to the situation. In the meantime we would appreciate Otto's and his family's privacy being respected and we hope his release can be secured as soon as possible.
The UVA student would have had the chance to watch the end-of-year firework celebration from Kim Il Sung Square in central Pyongyang and take a helicopter ride around the area.
Warmbier was arrested just four days before North Korea allegedly tested a hydrogen bomb on January 6. The nuclear explosion, though disputed, brought a renewed chill to North Korea's relations with the rest of the world, as Pyongyang's delegation to the United Nations proudly declared it could now "wipe out" the United States.
In general about 6,000 Western tourists visit North Korea annually, paying heavy sums for state-sponsored tours of hand-picked venues.
See Also:
Young Pioneer Tours Is Still Giving Student Tours to North Korea
The other American, named Kim Dong Chul, currently detained by North Korea, seems to at least have an excuse for his detainment. According to CNN, which interviewed Kim in detention, "he was arrested in October 2015 while he was meeting a source to obtain a USB stick and camera used to gather military secrets."
"I'm asking the U.S. or South Korean government to rescue me," Kim added.
We haven't had word from Warmbier on his side of the arrest yet. We don't know whether he is a young James Bond or just a college student with a penchant for divided countries — his Facebook page lists Cuba, Israel, and Ireland as recent destinations.
See Also:
Why Was Otto Warmbier Detained in North Korea?