North Korea Just Banned Instagram -- But the Country Is Fascinating on the App
How a hermit kingdom tries to blockade the 21st century.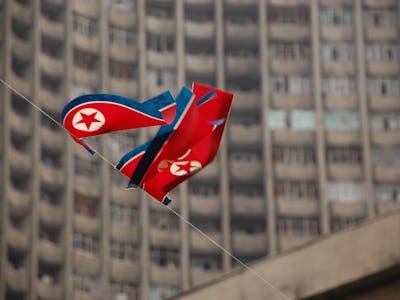 www.flickr.com/photos/fljckr/1026570349
North Korea continues to grapple with its image problem, so it has decided no one will get to see it on Instagram. For the past five days, pop-up warnings have appeared on the screens of users making it impossible for people to access the photo-sharing app and website.
According to the AP, those logging on to Instagram get a warning in English reading, "Warning! You can't connect to this website because it's in blacklist site," while a similar message in Korean mentions that the site has been banned due to harmful content.
More than two million North Koreans have access to mobile phones, but the Internet is almost entirely unavailable to regular citizens. Now visitors and foreign journalists are going to be severed from one of the quickest ways to document life in Kim Jong-un's bizarro regime.
Kim and his cronies have offered no public explanation for the ban. Here's hoping it gets overturned: The on-the-ground photos of Pyongyang and elsewhere in North Korea that you can find on Instagram are remarkable. Information like this wants to be free, which is exactly the problem when you're running a tightly controlled dictatorship.