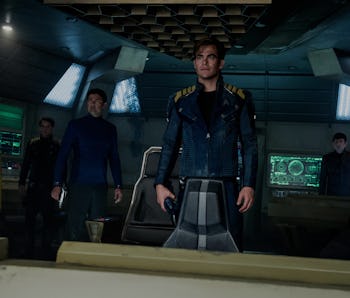 Entertainment
'Star Trek Beyond' Is a Rare Sequel Success This Summer
'Star Trek Beyond' warped past the competition.
Paramount Pictures
Justin Lin's Star Trek Beyond easily beat the box office competition, grossing approximately $59.6 million across 3,928 theaters. As the film continues to track well with theater audiences and gears up for a wider international release, Star Trek Beyond is proving to be one of the rare successful sequels this summer.
After sequels to Teenage Mutant Ninja Turtles, Independence Day, and Alice in Wonderland fell flat, it looked as if this summer of reboots and part twos only belonged to Pixar's Finding Dory. While Beyond made less its opening weekend than both the first Star Trek ($75.2 million) and Star Trek Into Darkness ($70.2 million), Beyond only dipped by a modest 14 percent from the previous two Star Trek films. Additionally, the Star Trek films typically perform well overseas, with Into Darkness doing particularly well in the important Chinese market. On top of that the film has been trending well with viewers, giving the film a high chance for word-of-mouth success.
Beyond follows the crew of the USS Enterprise after five years on peace missions across the universe. After a response to a distress call traps the crew on a strange planet, the separated crew finds them trying to save a Federation outpost from the villain, Krall (Idris Elba). The film has been praised for returning the action-heavy franchise to its exploration and adventure roots. The script was co-written by Simon Pegg and Doug Jung, with Justin Lin taking over directing duties from J.J. Abrams. Justin Lin previously directed the Fast and Furious franchise, and his eye for action set-pieces shines in this decidedly brighter sequel. A fourth movie is already in the works with plans to bring back Chris Hemsworth's Kirk senior.
Illumination Entertainment's Secret Life of Pets maintained its strong lead from previous weeks, coming in second place with a $29.3 million gross. Low-budget horror film Lights Out also made a big splash this weekend thanks to an effective ad campaign and younger moviegoers. The film tied for third place with Ghostbusters which saw a 53 percent drop from last week.
Ice Age: Collision Course was the weakest new film this weekend bringing in a $21 million gross, the weakest Ice Age opening to date. While the franchise is still popular overseas, the Ice Age franchise appears worn out in the states, and the weak link among the animation dominated summer box office.