'The Shallows' Might Be a New Genre Staple as 'Independence Day' Falls Flat
Blake Lively's new shark thriller could join the genre greats.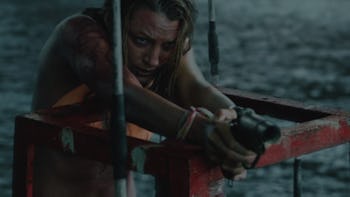 Sony Motion Pictures
The most 4th-of-July movie out this weekend might not be Independence Day: Resurgence, but rather Blake Lively's shark-thriller, The Shallows. The Independence Day sequel failed to live up to its '90s hype, underperforming domestically while the open-water survival film fared much better than anticipated.
The biggest surprise this week was shark-survival film, The Shallows. Directed by action throwback filmmaker Jaume Collet-Serra, The Shallows follows Lively's medical student Nancy, as she decides to surf an isolated beach off the coast of Mexico. Soon, however, she's left stranded in the middle of the ocean going mono e mono with a particularly angry Great White Shark. The film earned an estimated $16.7 million from nearly 3,000 theaters, according to The Hollywood Reporter.
The film is performing exceptionally well, considering its $17-million budget and competition from the likes of Independence Day and Finding Dory. Sony's Josh Greenstein believes that The Shallows has the potential to be a new genre classic. Whether he means The Shallows will be the next Jaws or the next Deep Blue Sea TV rerun on TNT is up for debate. It's fairly difficult to manufacture a "cult hit", and the success of The Shallows might be attributed more to America's fascination with sharks than a word-of-mouth campaign by genre fans. There is after all, a whole week dedicated to the rapidly disappearing predator fish.
If The Shallows is destined for cult greatness, Independence Day: Resurgence will probably be neglected in favor of the first film. The sequel fell short of financial expectations, earning an estimated $41.6 million from 4,068 theaters. Roland Emmerich's sequel returns to a world that is both under constant alien threat and suspiciously sans Will Smith. Starring Liam Hemsworth and a returning cast that includes Jeff Goldblum's David Levinson, Bill Pullman's President Whitmore, and Brent Spiner's Dr. Brackish Okun; Resurgence takes place 20 years after the first invasion. Earth is armed and ready for another alien attack, but apparently they not so prepared – because there is another, bigger attack.
Like all modern films, Resurgence is looking abroad to recoup less-than-stellar domestic returns. The film earned $102 million from 52 international markets, including China, for a more comfortable $143.6 million global return. Thanks to international movie audiences, Resurgence should be able to re-earn its hefty $165-million budget.
Pixar's Finding Dory is still summer's success story, maintaining its first-place dominance from last week with an overwhelming $73.2 million. That puts the film's domestic total at $286.6 million, and a global gross of $397 million. After breaking records last week, Finding Dory is quickly becoming one of the most successful Pixar films of all time.
In particularly bad shape this weekend was Matthew McConaughey's Free State of Jones and Nicolas Winding Refn's Neon Demon. Free State of Jones earned $7.8 million from 2,815 theaters, making it McConaughey's lowest opening movie ever. The story of a renegade confederate soldier who sets up an independent, not-racist, state failed to ignite critics and moviegoers.
Meanwhile, Refn's Neon Demon earned $606,594 from 783 theaters, essentially killing the film's chances of indie success. The LA-centered horror films starring Elle Fanning couldn't manage to keep Refn faithfuls from returning after the critical panning of his previous film, Only God Forgives.