How a Cut 'Independence Day' Scene Saved Brent Spiner's Dr. Okun
'Star Trek' alum Brent Spiner on how his 'Independence Day' character lived on thanks to a deleted scene.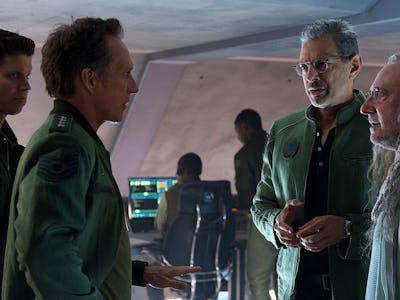 20th Century Fox
Despite his accolades and recognition in the realm of sci-fi and fantasy, Star Trek alum Brent Spiner doesn't spend his free time reading about spaceships or superheroes.
"I like Ken Burns," Spiner, who may be best known for playing Lieutenant Commander Data in Star Trek: The Next Generation, said in a recent phone interview with Inverse. "I read history and biography. I'm more interested in what has actually happened than what may happen."
Contact with extraterrestrials may not be "history" until 1,500 years from now, but the Saturn Award-winning Spiner has built a career pretending to communicate with them, as both the android on the Starship Enterprise and a hippie scientist in Independence Day. And while it's not his thing, Spiner remains humbled to be a part of it all — and to be brought back in his latter role in Independence Day: Resurgence.
Spiner talked to Inverse all about how that character was mistaken for dead for twenty years, as well as his role in the new Starz show Outcast.
What was it like to step in Dr. Okun's shoes again, given that we all thought he died in the original?
I'm loving it. I'm so happy to have, indeed, been alive. I knew I wasn't dead 20 years ago, but for some reason, everybody assumes that when somebody puts two fingers on your neck, you're dead. But that guy who did that was military, and if you had been able to follow him into the next scene (that was deleted), Robert Loggia, who was playing the general, would have said, "Why did you put your fingers on that guy's neck?" and he would have said, "I don't know. I saw it a movie once." He wasn't a doctor, and clearly, Dr. Okun wasn't dead, or he wouldn't be back in this movie.
Dr. Okun is back from a two-decades long coma. Does he awake during the movie or is his "resurgence" off screen?
He's not awake when it begins, he's still asleep or unconscious, or something. He's in a coma, so he hasn't been doing a lot. He's been breathing, he's been dreaming, he's been laying in a bed, and that's all he's been doing.
The world is way different in 2016 than in 1996. Does Okun endure culture shock?
He isn't really that kind of character. There is a little bit of that, but I don't think it's culture shock as much as culture fascination. This guy is an old hippie, and he's just happy to be awake seeing this new world, and seeing what it's all abut.
Okun had a memorable part in the original movie, but he wasn't what you'd call a principal character. What kind of role does Okun have in Resurgence?
There's a little more of him in this one, and his role is a little more instrumental. It's a deeper relationship. I haven't seen the movie, I know the character really doesn't get going until the middle. But there's so many characters and so many stories going on, and he's just one of them. But it's a real story he has happening.
It's a little-known trivia that Dr. Okun was based on a special effects supervisor Roland Emmerich worked with from Stargate, Jeff Okun. How much of that is true, and how much of the real Jeff Okun was in your interpretation of the character?
I know Jeff Okun. I've never worked with him, I've just met him through other people. The name was an homage to Jeff, because Jeff did special effects on Stargate for Roland. That's where it ended. The character really wasn't based on him, Jeff was never a doctor that I know of. It didn't restrict me, because I never thought about Jeff when I was doing it, other than just the name.
Currently you're also playing Sidney in Robert Kirkman's Outcast. In the comics Sidney is the leader of the demons, but what is he like in the TV show?
I wouldn't say he's the leader of demons. I haven't read the comic books, so maybe that's the way he is, but he's definitely a dark, foreboding character. He is not a nice guy. But he has a purpose. I think it sort of unfolds, as the series goes on, who and what he is. Mostly, he's a mystery, even by the end of season one, there's still a lot to be figured out.
How far along into Season 1 have you filmed? Are there preparations for Season 2 already?
We finished Season 1 in December. We're close to starting Season 2. I'm just trying to find a place to live in the Carolinas. I'm not on set yet. I don't have any scripts or anything . We don't begin until sometime in late July.
How would you compare Sidney to someone like Data or even Dr. Okun? I also know you played Joker in DC's animated Young Justice. What's Sidney like even against that guy?
Completely different. There is nothing even remotely close to anything I've done before. Sidney's unique. He's a unique being. I don't know that there's ever been a Sidney before. He's nothing like anything I've ever played.
Star Trek is celebrating its 50th anniversary this year. Even though you said genre isn't your thing, why do you think Trek has lasted as long as it has?
I think Star Trek is the great American epic. Some think it's wonderful, and some think it's ridiculous. It is both, and that's what's wonderful about it. I think that's what has made it one of the most appealing things in American culture. At the end of the day, anything that's lasted half a century is worth taking seriously.
Independence Day: Resurgence arrives in theaters on June 24. Outcast is now airing on Cinemax.
This interview has been edited for brevity and clarity.