'Finding Dory''s Record-Breaking Weekend is Why Pixar's Sequels Won't Stop Anytime Soon
Why should Pixar focus on original films when sequels like 'Finding Dory' smash records?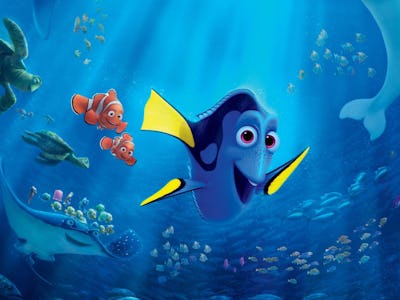 Pixar Animation Studios
Pixar is on a pretty noticeable sequel binge: Four of their last seven films since 2010 have been sequels, and three of the four announced films in process are also sequels. While critics might have a hard time reconciling these truths, movie-goers seem to have no problem whatsoever with it. This weekend delivered Pixar's newest film Finding Dory, a record-breaking $136.2 million opening in 4,305 theaters.
Finding Dory is Pixar's return to the undersea world of 2003's Finding Nemo. Voiced once again by Ellen DeGeneres, the forgetful Blue Tang fish Dory one day remembers that she too has parents, and decides to go look for them. Her journey takes her all the way to California where she is eventually captured by a marine life preserve. Both Finding Dory and its predecessor were directed by Pixar's Andrew Stanton, who returns to animation after directing the live-action flop John Carter.
According to Box Office Mojo, Pixar's Finding Dory had the largest opening night night for any animated film at $54.9 million; easily beating Shrek the Third's previous record of $47 million. The Hollywood Reporter also reports that Finding Dory's weekend total makes the movie the only animated film to crack the top 20 movie openings, coming in at No. 18.
This probably means that Pixar won't quit producing sequels to their beloved properties anytime soon, despite diminishing critical returns. Every sequel Pixar has created since Cars 2 to this weekend's Finding Dory has been met with less praise than their predecessors, but bigger box-office returns, especially overseas.
While critics might clamor for more original outings from the successful animation studio, Pixar seems more than willing to explore its backlog for new adventures. With Cars 3, Toy Story 4, and The Incredibles 2 all slated for development, there's no reason to believe that the Pixar sequels will end anytime soon. And with returns like that of Finding Dory, there's little rationale for the animation studio not to focus on sequels in the first place.
The No. 2 film in this weekend's top five is the other new release, Central Intelligence. The film stars Dwayne "The Rock" Johnson, a former geek turned beefy secret agent who enlists his old high school friend Kevin Hart to join him on a mission. The film pulled in a respectable $34.5 million, which beat last year's action-comedy Spy ($29.1 million) starring Melissa McCarthy. Central Intelligence did however fail to beat Hart's other odd-couple action-comedy Ride Along ($41.5 million) and its sequel Ride Along 2 ($35.2 million).
At third place is The Conjuring 2 which dropped 62 percent domestically, but is still pulling in strong returns overseas. Rounding out the list at fourth and fifth place respectively this weekend is Now You See Me 2 and Warcraft, both seeing drops in domestic market, but performing strong in global markets. Warcraft especially is still seeing huge business in China, pulling in over $300 million overseas.