'Finding Dory' Reviews Says It Sinks, or Swims, No One Know 
Reviews of Pixar's sequel to 'Finding Nemo' paint a picture of a solid follow-up or a disappointing retread.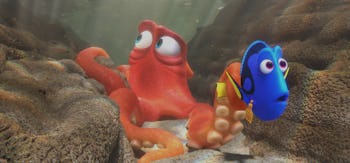 Disney
While high marks like last year's Inside Out wowed and 2009's Up still makes people cry seven years later, Pixar's recent slew of underwhelming sequels and misfired originals have failed to fulfill the studio's name hype against rivals like sibling Disney Animation, the purveyors of Frozen and Big Hero 6.
In 2016, Pixar brings to the surface Finding Dory, a sequel to 2003's Finding Nemo about a lost fish that wound up better than expected. In Finding Dory, the roles are reversed and Ellen Degeneres's natural blue fish Dory, who has short-term memory, embarks on a journey to reunite with her family with a clownfish father and son, Marlin (Albert Brooks) and Nemo (Hayden Rolence).
Finding Nemo was an emotional, all-ages blockbuster, but in the modern era of sequels and reboots, the prospect of a second round seemed dubious. Does Finding Dory sink or swim? It depends whom you ask.
Brian Truitt of USA Today believes it sinks, writing, "it doesn't have nearly the same sense of heart, wonder and awe" as the 2003 original, though he still praises the film's unique and vibrant characters. "Outside of Toy Story, Pixar hasn't found the right formula in its sequels to repeat the success of its original classics. Mark Finding Dory down as another that falls short of unforgettable," he writes.
The Hollywood Reporter adds to the film's criticisms. Todd McCarthy writes: "[W]hile rambunctious and passably humorous, this offspring isn't nearly as imaginative and nimble-minded as the forerunner that spawned it."
Scott Mendelson of Forbes is less scathing but still pessimistic about Dory's journey. "The film offers gorgeous animation, some poignant character beats, and a few inventive set pieces. It also occasionally feels like a studio trying to recapture a lighting-in-a-bottle moment. It still swims, but it never quite soars."
Variety, on the other hand, has high praise for Pixar's second dive. "Have the creators of Finding Dory gone all politically soft and sensitive on us — in response, perhaps, to the memory-challenged community?" Owen Gleiberman writes. "Hardly. Theyve done something better: figured out how to take an already perfect character and deepen her in an exquisitely satisfying way."
Indiewire is especially favorable, framing it as an argument that sequels need not be empty. "This is a movie about being lost in a world that's bigger than you can fathom, but — more importantly — it's a movie that invites people to share in what that feels like," writes David Ehrlich. "Finding Dory doesn't feel lazy, cynical, or like a rehash. On the contrary, it does what a sequel should — it's a compelling argument for why we make them in the first place."
While Uproxx's Mike Ryan is critical of the film's first half, he later comes around praising its second half and generally the movie as a whole. "I never thought I wanted a sequel to Finding Nemo, but here we are and I'm pretty happy it exists."
Finding Dory swims to theaters on June 17.