'Warcraft' Has a Complicated Weekend: Loses to 'Conjuring 2' in US, Breaks Records in China
Perhaps China will become the film industry's kingmaker.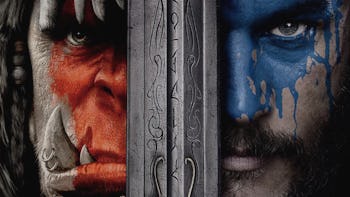 Legendary Pictures
Getting the bad news out of the way first: Duncan Jones's Warcraft bombed this weekend in U.S. theaters. Opening in 3,400 locations, the film adaptation of the popular video-game series netted $24.4 million in its opening weekend, according to The Hollywood Reporter. That is a only fraction of the film's $160-million budget.
There is, however, a caveat to this news as Warcraft broke records in China – and the country currently accounts for 60 percent of the film's total earnings. Warcraft is now the fastest film to earn over 900 million rnb (Chinese Yuan), beating the previous record holder, Furious 7. China is particularly vested in Warcraft's success, since Chinese corporation Dalian Wanda owns Legendary Pictures, the studio behind the Warcraft film.
There has been a lot of scrutiny over Warcraft; many film analysts predicted the film would fail to gain traction in the U.S. But Legendary Pictures aggressively promoted the film in China, which for the last couple of years have bolstered the international sales of film releases. It also helps that China has a massive obsession with the Warcraft franchise. This might be a case in which the future of the Warcraft film franchise is wholly dependent on Chinese markets.
Back in North America, the big winner this weekend was James Wan's Conjuring 2 which rode to $40.4 million across 3,343 theaters. Unlike Warcraft which is seeing its primary success overseas, Conjuring 2 appears to be a hit in both domestic and international markets, grossing $50 million from over 40 international markets. The sequel comes in just a little behind the first Conjuring film which made $41.9 million its opening weekend. Nevertheless, this was a successful weekend for one of the best-reviewed horror franchises in recent memory.
In third place was Now You See Me 2, the surprise sequel to a film about magician thieves. The film grossed $23 million in 3,232 theaters, while overseas the film has grossed $22.8 million for a global tally of $45.8 million. The first Now You See Me was an international hit, grossing $351.7 million. The sequel looks to replicate the global success of its predecessor, even enlisting Taiwanese Pop Star Jay Chou, and British actor Daniel Radcliffe, for a truly international cast. The sequel also replaced director Louis Leterrier with Jon M. Chu (Justin Bieber: Never Say Never, Jem and the Holograms).
Rounding out the top five are comic book holdovers from previous weeks, Teenage Mutant Ninja Turtles: Out of Shadows and X-Men: Apocalypse, respectively. TMNT 2 fell by almost 60 percent in its second week, shoring up $14.8 million domestically and $13.3 million from 44 international markets for a global gross of $116.3 million.