'Teenage Mutant Ninja Turtles 2' Proves the Nostalgia Well Has Some Limits
The Heroes in a half shell, shred at the box office.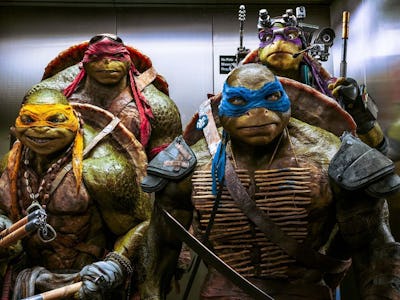 Paramount Pictures
Teenage Mutant Ninja Turtles: Out of the Shadows released this weekend in almost 4,000 theaters nationwide. The sequel to 2014's blockbuster hit, the Michael Bay-produced, CGI extravaganza won big this weekend, bringing in $35.3 million, according to the Hollywood Reporter.
Picking up a year after the first Teenage Mutant Ninja Tutles, the sequel introduces a lot of the classic, fan-favorite characters from the cartoons. This time, villains Rocksteady, Bebop, and Krang join Shredder who returns from the first film. Luckily, the Turtles are joined by hockey mask-wearing vigilante, Casey Jones (Stephen Amell of Arrow fame) this time around. Megan Fox and Will Arnett also return as April O'Neil and Vern Fenwick from the first film.
The 2014 Ninja Turtles movie nearly quadrupled its $125 million budget, despite being met with near- universal scorn by critics. The sequel seems to be fairing slightly better in critical circles, scoring a 40 on Metacritic (versus 31 for the first film), and a 37% on Rotten Tomatoes (versus the 22% for the first film). Audiences were kinder to the film, ranking it a 5.6 and 63% on Metacritic and Rotten Tomatoes, respectively.
Despite the good news, there are some interesting differences between the first Ninja Turtles film and its sequel. Out of the Shadows is currently running behind its predecessor financially, bringing in 46 percent less than the 2014 film's $65.6 million opening weekend. Secondly, the male-driven family film is actually skewing younger than its predecessor. Paramount vice chairman Rob Moore revealed that "This time, 40 percent of the audiences was under 18. Last time, it was 27 percent."
While this might indicate that older audiences are not buying into the nostalgia- heavy reboot of their childhood properties, Moore is excited, as family films often play better in the long run.
Teenage Mutant Ninja Turtles 2 handily beat X-Men: Apocalypse which dropped down to No. 2 in its second weekend with $22.3 million. This is a 66 percent drop from last week. Game of Thrones Emilia Clarke's romance melodrama, Me Before You, also released this week to a surprisingly good turnout (including overseas, where the film was No. 1 in South Korea) nabbing the No. 3 position, with $18.3 million.
Underperforming this weekend was Saturday Night Live-alumnus Andy Samberg's parody music-documentary, Popstar: Never Stop Never Stopping. Written by Samberg and his Lonely Island-collaborators Akiva Schaffer and Jorma Taccone (who together co-directed the film), the movie featured many famous comedians like Sarah Silverman, Maya Rudolph, and Bill Hader. Despite this, the film released to $4.6 million on 2,311 theaters to come in at No. 8 during the opening weekend.
Rounding out the top five at No. 4 and 5 respectively, is Disney's Alice Through the Looking Glass, which continues to underperform compared to its predecessor, and Angry Birds: The Movie.
Meanwhile, Warcraft continues to expand overseas, opening in eight new international markets. While the film has been doing well in countries like Russia and Germany, the film is tracking considerably weaker in the U.S., where analysts are predicting a relatively weak $24 million opening.