'X-Men: Apocalypse' a Hit, While 'Alice Through the Looking Glass' Falls Flat
'Alice Through the Looking Glass' sinks another of Disney's Memorial Day plans.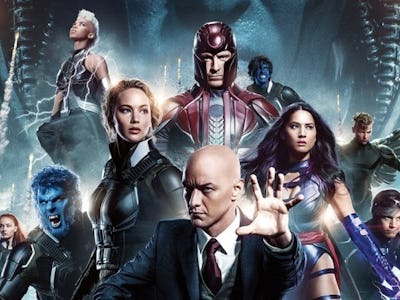 20th Century Fox
Considering it's Memorial Day weekend, the box office machine for this week won't be final until Monday. Still, it looks as if the designated winner this holiday weekend is X-Men: Apocalypse, which is currently projected to finish the four-day weekend with an estimated $80 million gross.
The Hollywood Reporter revealed that Apocalypse has so far made about $65 million in three days, and will finish at number one come Monday. However, this total comes in at 30 percent lower than director Bryan Singer's previous X-Men film, X-Men: Days of Future Past, which took in around $110 million its opening weekend.
The drop is attributed to the relatively poor reviews the film has been receiving since its release, with many critics faulting the film for being another CGI extravaganza with too little story cohesion.
Worse however is Disney's Alice Through the Looking Glass, a big-budget sequel to Tim Burton's 2010 Alice in Wonderland film. The three-day gross across nearly 4,000 locations is $28.1 million, with an estimated four-day gross of $35 million. This is far less than the film's $170 million budget.
Alice Through the Looking Glass was hindered by a wave of negative reviews upon release. Bruce Kirkland of the Toronto Sun went as far as to say that "Alice, of Alice in Wonderland fame, is dead to me now. Alice Through the Looking Glass has killed her off." The sequel, which replaced director Tim Burton with James Bobin (Muppets Most Wanted), suffered from a plain lack of joy according to most critics.
This is the second Memorial Day weekend in which Disney has suffered a loss. Last year, Disney released Tomorrowland starring Britt Robertson and George Clooney. That film was also considered a flop, bringing in only $42 million over the four day weekend.
Still, this is just a minor setback for Walt Disney Studios which currently boasts three of the highest grossing films so far this year with: Captain America: Civil War ($1.11 billion), Zootopia ($992 million), and The Jungle Book ($880 million). The last of which just overtook Batman v Superman: Dawn of Justice* for the third spot.
Rounding out the top five for the holiday weekend is Sony's The Angry Birds Movie, Marvel's Civil War, and Universal's Neighbors 2: Sorority Rising.