'Angry Birds' Defeats Marvel's 'Civil War', Ryan Gosling at Weekend Box Offices
Captain America, Ryan Gosling, and Seth Rogen couldn't stop Sony's 'Angry Birds' from topping Box Offices.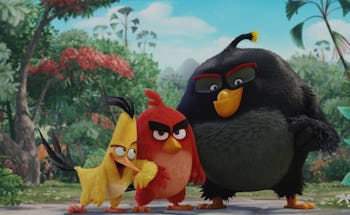 Sony Pictures
In a weekend crowded with big names like Ryan Gosling, Russell Crowe, Seth Rogen, and Zac Efron, it was Red Bird and his friends who took home top dollar at the movies. The film beat industry expectations when it came out in first place over other new films like Rogen's Neighbors 2: Sorority Rising, Gosling's The Nice Guys, and Marvel's Captain America: Civil War.
Angry Birds, starring Jason Sudeikis ,Josh Gad, and Maya Rudolph, released worldwide this weekend to less-than-stellar reviews. The film currently holds a 43 percent rating on Rotten Tomatoes and 43 on Metacritic. Despite this, the film flew to a strong domestic opening, bringing in $39 million its first weekend.
Sony's animated film managed to outgross Neighbors 2's $21.8 million and The Nice Guys underwhelming $11.3 million. The two films debuted at third and fourth place, respectively. Angry Birds also surprisingly knocked down Captain America: Civil War from its first place position to second after three weeks in theaters, where the film has so far taken in $347.4 million at domestic box offices.
Angry Birds is based on the incredibly popular mobile game by Finnish developer, Rovio. Players slingshot cartoon birds at towers constructed of pigs and explosives in order to cause as much damage as possible and earn the highest points. Sony turned this simple game into a story about an angry bird named Red who turns out to be the only bird able to stop a band of pig pirates from taking over the island he lives on. Angry Birds' strong performance paves the way for Sony's other films based on equally simple premises like their upcoming "Emoji Movie".
Disappointingly, The Nice Guys which starred Ryan Gosling and Russell Crowe opened up to good reviews but was unable to turn critical opinion into a solid debut. Shane Black's throwback '70's detective comedy failed to reach a wider audience beyond genre fans and film critics.
Neighbors 2 is the sequel to 2014's big hit, Neighbors. Married couple Seth Rogen and Rose Byrne once again combat their unruly neighbors – this time, a newly formed sorority house led by Chloë Grace Moretz. They team up with their former nemesis from the first film, Zac Efron, who was president of the fraternity that once occupied the same house.
Overseas is pretty much the same story: Angry Birds brought in $94 million, and came in at No. 1 of 48 foreign markets. Civil War* also passed the $1 billion mark worldwide to become Disney's 10th billion-dollar movie and 19th highest grossing film of all-time, worldwide.