The Angry Birds Video Game Movie Is Just One More Step to the Angry Birds Movie Video Game
'The Angry Birds Movie: The Game: Based on the Game' is what we should expect -- and deserve.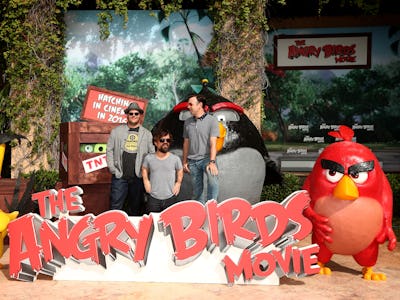 Christopher Polk/Getty Images for Sony Pictures Entertainment
Angry Birds, the massively successful 2009 mobile game, is getting its own movie, appropriately titled The Angry Birds Movie. It stars Jason Sudekis as Red, the angry protagonist. Peter Dinklage, Josh Gad, Danny McBride, Maya Rudolph, Hannibal Buress, Bill Hader, Keegan-Michael Key, and more voice-act in the film, too. It's out May 20, 2016.
Today, we have the first official trailer, which introduces Red, who needs some serious anger management, and Leonard (Hader), a cocky pig who intrudes on the peacefully angry bird island.
Recently, Finnish developer Rovio announced an official sequel to the original game, which is a little silly considering there are 15 games within the whole Angry Birds franchise. An official Angry Birds 2 is redundant at best. Get ready, though, because you can be certain that there will be a The Angry Birds Movie: The Game (or something similarly titled) to accompany the film's release.
The Angry Birds Movie is the franchise's first move toward a legitimate storyline. Red's adventures and likely butting of heads with Leonard will stray drastically from flicking birds on an iPhone — although it's likely to figure in as the birds' primary plan of attack. That means that Rovio, or Columbia Pictures, can develop a new game that highlights the soon-to-be-familiar faces.
The Angry Birds Movie's game could expand to non-mobile platforms if the studio desires. The next-gen console RPG is the typical movie tie-in, and The Angry Birds Movie has a protagonist like any other deserving film. The difference is that it can sell millions of mobile games, too, by giving the lil' birds names and updating the settings to reflect the on-screen portrayal.
The Angry Birds Movie: The Game: Based on the Game: In the First Place is going to be incredibly meta. Still, it's what we should expect, and it will ultimately be no different from any other blockbuster movie rollout.