Sony Is Making a Movie About Emojis Called 'The Emoji Movie'
You're awake. This is not a nightmare. This is actually happening.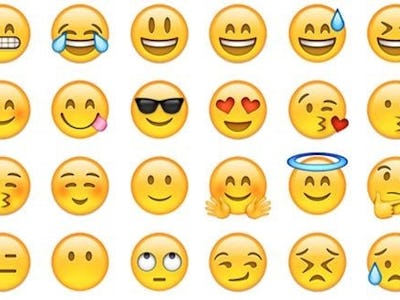 Apple
Sony Pictures Animation is making a movie about emojis. It will most likely be called The Emoji Movie. The movie, which will be about emojis, should be released in August of 2017. At that point, you will be able to watch a full-length animated feature film about emojis.
For the most part, this is everything you need to know about The Emoji Movie. But if you're interested, like we are (in the same way that we're interested in the ebola virus, purely out of self preservation), we have some questions.
The first question is why?
According to Variety, Sony won the rights to the project (this implies that there were multiple buyers interested in the rights to a movie about emojis) in July of last year. The film was pitched by Eric Siegel and Anthony Leondis, who envisioned a full-length feature movie about the tiny symbols we use to represent penises or in place of actual emotions in text messages. Apparently, Siegel, who was a producer on the TBS series Men At Work and a consulting producer on ABC's Family Tools, and Leondis, who directed the short Kung Fu Panda: Secrets of the Masters and the DreamWorks Animation feature B.O.O.: Bureau Of Otherworldly Operations decided that their next creative endeavor would be a film about emojis, and Sony Pictures Animation was willing to pay them money for it. They're co-writing the script and Leondis will direct the movie, whose characters will be emojis.
Michelle Raimo Kouyate will produce the movie, which is set in a world of emojis.
Cinematic universes are a big thing right now, and it seems Sony Pictures has decided that its foray will be the Emoji Cinematic Universe. It's already making a film based on the mobile-app game Angry Birds; you can watch the trailer here, if you really want to.
I think this is as close as we are going to come to answering the question of why someone would make a feature film about Emojis.
The second question is what does this mean?
The obvious answer here is that it means the world is ending, and, to be honest, that's completely okay. Humanity has met its end not from fire or flood, but from our heretical fascination with tiny faces on digital screens. We saw our first signs of the apocalypse when Pixels was released, but we cast out Adam Sandler as a false harbinger of doom, believing ourselves safe. And now, we will all pay the price. Pray to your gods, hug you families, ask out the cute person you're too scared to talk to at work, or the bar, or your now-useless educational institution. Live your life free from the constraints of society or decorum, because chaos reigns and we have but 16 months to live.