China's Government Made 'Warcraft' a Hit
Sure, the country likes the game, but there is a lot of vested interest in the movie's success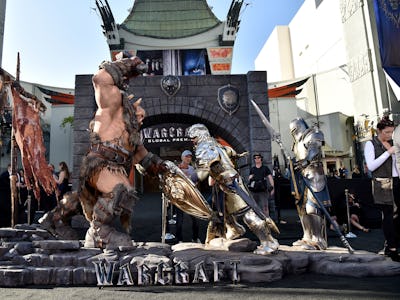 Getty Images / Mike Windle
China has turned into the world of Warcraft, and it's not just because its 1.3 billion people love orcs.
Long touted as a potential gold mine for Hollywood, financial success in the country has proven somewhat elusive for American film studios. Quite simply, for a movie to succeed in China, China generally has to want that movie to succeed; in many ways, the outcomes are somewhat predetermined. In an unprecedented arrangement, Warcraft, the CGI-heavy adaptation of the now-classic computer game, has both the Chinese audience — and more importantly, the government — working to secure its box office crown.
Warcraft is already a record-setting sensation in China, selling $20.4 million in advanced tickets and making over $46 million in its first day, good for most and second most in the country's history, respectively. In part, this is a reflection of the huge national love for the property. Warcraft, as the first real online multiplayer video game allowed in the communist country, became a full-on sensation there after its localization launch in 2006; it reached the point that the government, ever-worried about outside influences "corrupting" its citizenry, stepped in to legislate what could be in the game, just how long people could play it, and to keep young people out of internet cafes. That did little to temper the enthusiasm for the game, which has been stoked by both authorized corporate tie-ins and unlicensed knockoffs, including full-on Warcraft-themed amusement parks.
The government may have once been concerned about people's Warcraft obsession, but more recently, it recognized that there was a lot of money to be made from it. As part of its intense drive to build up its domestic film industry, several powerful groups in China — including government entities and allied conglomerates — pooled efforts and investment into the success of the big screen adaptation.
The film, directed by Duncan Jones (Moon, Source Code) and distributed in the United States by Universal, is yet another ho-hum blockbuster by American standards, one that may come and go with little-to-no cultural impact. Its marketing campaign in America is downright snoozy compared to what's happening in China, where gigantic premieres and massive events, with appearances by stars that include Chinese-American actor Daniel Wu, have been going for weeks. But these celebrations are just the end result of a concerted effort to put Warcraft in the best possible position to succeed, an effort run by major stakeholders who also to happen to control China's film industry.
As with most industries in China, the government plays a heavy role in the film business there. The China Film Group Corporation, or CFG, is a state-owned organization that acts as both the largest production and distribution company in the country, and the main distributor of imported films. It only has 34 slots for imported films a year, which means that if you want to get a film released in China, you have to work quite closely with CFG.
CFG is also heavily involved in co-productions with Hollywood, which means that it invests and helps make certain movies that it then imports to Chinese audiences. In 2013, it struck a co-production deal with Legendary Pictures, the company behind blockbusters like Godzilla and Pacific Rim, that included a stake in Warcraft. Right off the bat, the deal meant that the movie would have entree into China and every resource to make it a success there at its disposal. And that list of advantages only grew.
Earlier this year, Legendary was bought by Wanda, the huge Chinese conglomerate that bills itself as the country's biggest private property developer. Along with hotels, resorts, and casinos, Wanda owns the the largest collection of movie theaters in the world, including a plurality of screens in China (and AMC theaters in the United States). Then, in May, it was announced that the Huayi Brothers, one of the bigger and more connected private film groups in China, had invested in Warcraft, and stood to take a major share of the profits. That followed an earlier investment in the film by Tencent, the Chinese social media giant, which bought a stake in Warcraft back in September.
Clearly, there are a lot of Chinese interests betting on the success of Warcraft, which, perhaps not coincidentally, was given a plum release date by the Distribution and Exhibition Association… which is, notably, a subsidiary of State Administration of Press, Publication, Radio, Film and Television (SARFT), the government body that oversees the entire entertainment industry in China. It should come as no shock that SARFT also oversees China Film Group, which, again, has a major investment in Warcraft.
"Its release date comes on the eve of a public holiday which is a big advantage rarely given to Hollywood imports," Jonathan Papish, a Chinese film industry vet who now writes for China Film Insider, told Inverse. "This is certainly due to the fact that Wanda now owns Legendary, as well as because Warcraft has powerful Chinese backers in China Film Group, Huayi Brothers, and Tencent. All have state connections — though CFG is technically the only state-run company out of the three — and know how to leverage those connections in order to maximize exposure."
With every advantage being given to the film, the $160 million blockbuster should easily win several weekends at the box office in China, despite predictions for a tepid reception in America. But the sheer amount of time it took to get the movie made and released may cut into its overall gross; the number of World of Warcraft players has declined precipitously around the world over the last few years, including in China, where newer games have become the subject of mass obsession over the last few years. While it's still popular in "third or fourth tier cities," Papish says, the movie is banking more on fuzzy memories than rabid current fandom.
"My guess is that many of the original gamers have moved on to more mature activities — I think the peak of popularity hit a decade ago — but they have very fond memories of that time in their lives," he suggested. "There's a nostalgia factor similar to Star Wars that could be driving fans to cinemas, albeit within a much shorter timeframe. You have to remember how fast China is changing."
In fact, the Chinese film industry has changed so fast, it's moved on from its enamoration with American blockbuster imports. While endless new theater construction certainly tips the scales and helps new movies, it's still no fluke that the two biggest box office hits in Chinese history are now domestically made films. Monster Hunt, a cute historic adventure, and The Mermaid, a environmental political comedy, won over audiences by featuring Chinese stars and being custom-tuned for developing local tastes. So even with all the advantages given to Warcraft, the industry and audience have changed so rapidly that it likely won't be as big a hit as early numbers would seem to indicate.
"Top grossing films in China including The Mermaid, Furious 7 [the reigning import champ], and Monster Hunt scored well with all four quadrants of filmgoers and I just don't see the same happening here," Papish says. "Ultimately, I think we will see these fans turning up in record numbers during the first few days of release, but Warcraft won't top Furious 7's overall gross since it won't be able to reach a general audience. Repeat viewings from these diehard fans may get it to $300 million."
Still, that's a huge number compared to what it's expected to make in America; tracking has it taking just $25 million in its opening weekend. Such a discrepancy points at a new way forward for savvy corporations who are willing to trade some control and critical acclaim for expanded markets and global profits. Warcraft is a unique property in some ways, given its history in China, but Hollywood excels at nothing if not endlessly trying to replicate a single success, no matter how singular the circumstances.