Ellen DeGeneres Describes 'Finding Dory's Transgender Stingray: "A Sting-Ronda"
And that it's a "darker" movie than the 2003 original from Disney and Pixar.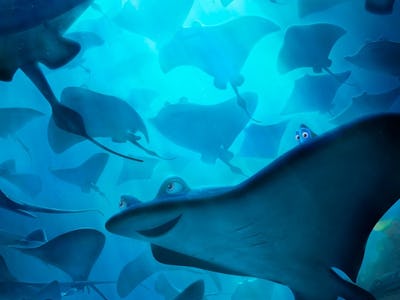 Disney
Actress and daytime host Ellen DeGeneres is reprising her role as Dory, the forgetful fish in Disney and Pixar's Finding Dory, a sequel to the 2003 family movie juggernaut Finding Nemo. Besides bringing back some beloved characters, Finding Dory generated minor buzz for its inclusion of a possibly lesbian couple as minor characters. While DeGeneres doesn't say that the characters are gay, she does mention a stingray who changes her gender identity.
"There's a stingray that becomes a sting-Ronda," Degeneres says in an AP video interview. "There's a trans-sting in the movie."
While human mammals are still figuring out that the gender spectrum is wide, vivid and not simply a binary, many species change their sexes quite routinely. Stingrays aren't one of them, but clownfish like Nemo actually are. But in a movie where fish talk, the science is excusable if the filmmakers are trying to make a point.
Earlier in the interview, DeGeneres also claims that Finding Dory is both "darker" and "lighter" than the original film. "It's more complex and layered, there's more messaging in it, that it's still a kids' film … but I think adults will be equally, if not more drawn to this film."
Finding Dory opens in theaters on June 17, and reviews thus far have been favorable, but a little mixed.