Chris Hemsworth To Bring Daddy Issues to Next 'Star Trek' 
There will be a fourth film in the Abramsverse Trek universe and Captain Kirk's father is back!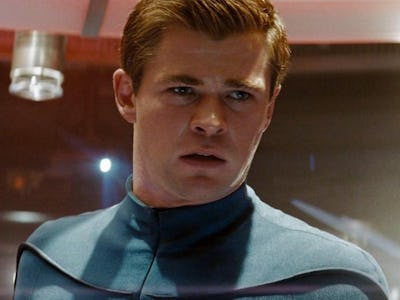 With Star Trek Beyond just a few days away from wide-release, Paramount Pictures, Bad Robot and Skydance have just announced there will in fact be a fourth film Trek film that will serve as a sequel to Beyond.
While the news of a new Trek film in the contemporary rebooted continuity raises some Vulcan-eyebrows on its own, the other component of the announcement is truly surprising: Chris Hemsworth will reprise his role as James T. Kirk's father, George Kirk. If you thought the current run of Star Trek movies were all-done working out their daddy-issues, you are totally mistaken. Just as the first two Abrams Trek-films were heavy on father-figures and relationships between fathers and sons, the fourth Trek won't slow down on Freudian adventures in the final frontier. Even the new trailers for Beyond have hinted at the idea of Captain Kirk shaking the idea that he lives in the shadow-of-father. Will these movies let him get over it? Nope!
Famous for his role as Thor in the Marvel Films, Chris Hemsworth is also currently starring in Ghostbusters as the scene-stealing Kevin, a dumb receptionist hired by the new Ghostbusters with hilarious results.
Is the next Trek movie bringing back Hemsworth's George Kirk because of the popularity of the super-talented actor? It seems likely, but it's also a weird move. If there was one consistent criticism of Star Trek Into Darkness it was the idea that Kirk still hadn't worked out his daddy issues, but had just moved them onto Admiral Pike. Now, it looks like Kirk will be faced with his father for real. But what form will this take? In the original Star Trek continuity, Kirk's father is a non-issue, barely mentioned at all. The daddy issues in old Star Trek are mostly about Kirk himself, both metaphoric, and actual. (Kirk is deadbeat dad in The Wrath of Khan) Now, it's as though Captain Kirk is a cockier Luke Skywalker, only instead of living in the shadow of an evil father, his father is a hero.
Unless the writers and producers of the fourth Star Trek film decide to flip it. What is this is an evil version of George Kirk from an alternate dimension? Or perhaps George Kirk was turned into some kind of cyborg zombie and not killed at all? Either way, the idea of Chris Pine doing battle with Chris Hemsworth makes a whole lot more sense than the two of them palling around.
Back in 2009, when the J.J. Abrams Star Trek was being promoted, many of the trailers declared: "Not your father's Star Trek!" This time around, it seems like they've already got the title ready-made: *Star Trek Four: Totally Your Father's Star Trek."
Star Trek Beyond opens in theatres this weekend.