Illumination Topples Pixar With 'The Secret Life of Pets'
The animation studio known for minions might have created a new pop culture obsession: your pets.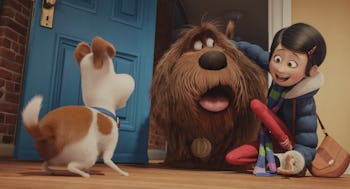 Illumination Entertainment, Universal Studios
Illumination Entertainment is the studio that nearly destroyed all of pop culture for a brief dark moment with their film Minions. Luckily, the overwhelming success of their newest film, The Secret Life of Pets, means that we'll probably be seeing a bunch of animated pets adorn Targets everywhere, instead of those yellow, oblong menaces.
Pets opened across 4,370 theaters for a $103.2 million opening weekend. Much bigger than expected by most estimates. This success is enough to warrant the start of a new franchise from the animation studio following the massive success of their two Despicable Me features and Minions spinoff. The opening of Pets beat other recent animation successes like Pixar's Inside Out, and finally managed to topple Finding Dory after the film's three week reign atop North American box offices.
Still, Pixar's underwater sequel didn't just go quietly into the night, and fought with Legend of Tarzan for a tight, second place finish. Both films brought in about 20 million over the weekend, and analysts are waiting for Monday to bring in final results. Many expect Dory to place better given that the film is already the most successful movie of the summer, grossing $642.8 million worldwide including China.
In a summer littered with lackluster, live-action reboots and sequels, it seems that animated films have had a much better go of the holiday movie season. Both Pets and Dory have made huge splashes where films like Independence Day and Tarzan have not. Perhaps this is indicative of animation as a guaranteed bastion for families looking for appropriate movies for their children in the summer.
The bro-comedy Mike and Dave Need Wedding Dates also performed better than expected, grossing $16.6 million from 2,982 theaters. Starring Adam Devine and Zac Efron as two partying brothers, the two must find "nice" dates for their sister's wedding. Enter Anna Kendrick and Aubrey Plaza who con their way in as their dates under the guise of respectability, but are just as dangerous together as Devine and Efron.
Finally, rounding out the top box office is The Purge: Election Year with an $11.7 million gross from 2,821 theaters. Sad to say that the real world news cycle we have is probably a good alternative for a film that features a legally sanctioned day of anarchy.