Anna Kendrick Wants to Play Squirrel Girl So Obviously We Need It Now
Anna Kendrick could play the most powerful, squirrel superhero.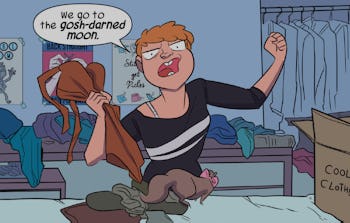 Marvel Comics, Erica Henderson
The big question these days might be which actor or actress will be next to join the ever growing list of superhero movies. Anna Kendrick's name is now officially on that list as over the weekend she revealed she would be more than happy to join a superhero film, especially if she can play Marvel's Squirrel Girl.
In an interview with Net-A-Porter, the actress was asked whether she would ever consider playing a superhero. The actress responded, "My brother sent me a Squirrel Girl comic because he thinks I should [play her]. I dont know what Squirrel Girl does other than be half squirrel, but I could be half squirrel!"
With a single interview response, Anna Kendrick has now and forever linked herself to the role in a movie we've always secretly wanted. While she admits to not knowing much about the character other than the important bit, that shouldn't count against such a perfect casting.
The internet, as it does, was quick to respond to this particular information. Within an hour of sites reporting the Squirrel Girl news, fans mocked up what a potential Anna Kendrick Squirrel Girl could look like.
Squirrel Girl was originally conceived as a lighthearted character who could speak to squirrels. Her powers quickly proved very useful, defeating the likes of Dr. Doom and Galactus. She quickly became arguably the most powerful supehero in Marvel comics. As the star of her own, very post-modern comic, she's become something akin to Deadpool; breaking fourth walls and generally deconstructing comic and literary tropes. The success of the Deadpool film could provide reason enough to push forward a similar movie or Netflix show featuring Squirrel Girl.
Her current comic, The Unbeatable Squirrel Girl written by Ryan North and illustrated by Erica Henderson, is one of the smartest, funniest comics currently on comic shop stands and Kendrick's excellence in witty humor should make her perfect for the role.