How To Download iOS 17 and Get Standby Mode and Improved Autocorrect
Along with other big changes like an improved autocorrect and NameDrop.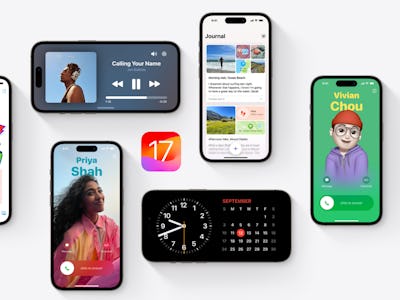 Apple
Just a few days before Apple starts shipping its latest iPhone 15 series, iOS 17 is bringing a few key upgrades to make its new phones feel really new.
There's a lot to unpack — from Standby Mode which lets you turn your iPhone into a smart display to Adaptive Audio compatibility for your AirPods Pro — but first, let's start by walking through how to download the first official version of iOS 17 if you don't an iPhone 15 incoming.
How to download iOS 17
To get the first official release of iOS 17 — not a beta — just follow a few simple steps. First:
Navigate to your Settings app and then tap "General."
Tap "Software Update" and then "Upgrade to iOS 17" which should be at the bottom of your screen.
Tap "Download and Install" to begin the process. If you're not ready to be without your phone for a little while as it downloads, you should wait — the update is 3.15GB so just keep that in mind.
And now that you know how to download iOS 17, here's a refresher of the best features you can expect:
STANDBY MODE
In Standby Mode, you plug in your iPhone in and set it horizontally so it can act as a smart display. It'll be much easier to see things from a distance in Standby Mode, whether you set it as a simple clock and calendar, music hub, or a photo slideshow.
IMPROVED AUTOCORRECT
We all have an embarrassing Autocorrect story, but Apple is trying its best to save you from that software-based embarrassment. iOS 17 is supposed to deliver a more accurate experience where you'll see your Autocorrected words underlined so you'll more easily notice it before hitting send. One tap reverses the Autocorrected word back to the original.
ADAPTIVE AUDIO
If you also have the second-gen AirPods Pro, iOS 17 adds the Adaptive Audio feature that will automatically adjust to whatever environment you're in. The new feature blends Transparency and Active Noise Cancellation modes to adapt to shifting noise levels as you move around during the day.
NAMEDROP
It's even easier to exchange contact info with iOS 17 thanks to the new NameDrop feature. You just need to hold an updated iPhone next to someone else's iPhone or Apple Watch and each of you will be prompted to share specific phone numbers or emails. Similarly, if you hold two iPhones next to each other, you can now instantly start a SharePlay session.
ALL THE OTHER STUFF
Besides the major updates already mentioned, Apple's iOS 17 does include a ton of updates that you can discover for yourself. You can customize how you appear when you call someone, see a live transcript of your voicemail, and even automatically check in with friends or family members when you arrive at a destination. The list goes on with personalized Stickers, the ability to leave a FaceTime audio or video voicemail and interactive widgets. Later in the year, iOS 17 will also bring a native Journal app, too.
iOS 17 is already available for download on your compatible iPhone. Everything starting with the iPhone XR/XS/XS Max will be compatible, but Apple has notably excluded the iPhone X and iPhone 8 series. If you're upgrading to the latest iPhone 15, there's still plenty of time to play around with the latest iOS before switching over.