Apple's iPhone 15 and 15 Pro Introduce First-Ever USB-C Charging and Action Button
If you're buying the iPhone 15 Pro Max your wallet is going to take a heavier hit.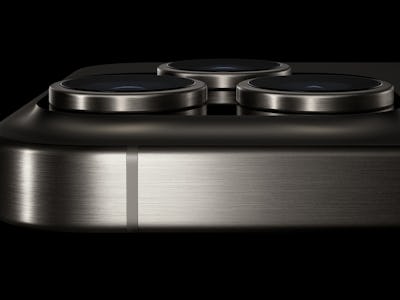 Apple
An iPhone made of titanium with USB-C and an Action Button? Say less. We may get a new iPhone every year, but this time we got a lot more.
With the just-announced iPhone 15, Apple is further differentiating between its Pro and base models.
IPHONE 15 PRO AND PRO MAX
For the first time, Apple is making iPhones with a titanium chassis via its iPhone 15 Pro and Pro Max. We already saw this new material applied to the Apple Watch Ultra, but now the Pro models of iPhone get the stronger, lighter, and more durable alloy. To make the latest iPhone look and feel better, Apple gave it contoured edges and thinner bezels.
Borrowing another design choice from the Apple Watch Ultra, the iPhone 15 Pro and Pro Max will get the Action Button instead of the traditional Ring / Silent Switch. By default, the Action Button will still act as a mute switch where you can press and hold to toggle between silent or ring, which will be visually confirmed on the Dynamic Island and physically through a haptic pulse. Customization is the beauty behind the Action Button, so Apple is letting you launch the Camera app, activate accessibility features like Live Speech, or program it however you want with one of your Shortcuts.
Internally, the iPhone 15 Pro and Pro Max will get the new A17 Pro chip for improved performance and efficiency. This new chip will help power the functions of the improved camera, which gets an improved 48-megapixel main sensor as well as a new 5x telephoto camera that's exclusive to the iPhone 15 Pro Max. Also new to iPhone 15 Pro models, you'll be able to capture spatial video with the main and ultrawide cameras, which you can later rewatch with Apple Vision Pro.
While all the iPhone 15 models are getting USB-C, only the Pro versions are getting USB 3.0 compatibility which allows for data transfer speeds up to 10 Gbps. The iPhone 15 Pro and Pro Max will come in four titanium-based colors: black, white, blue, and natural.
IPHONE 15 BASE AND PLUS
It may be somewhat controversial, but Apple is incorporating its Dynamic Island into non-Pro iPhones. There will be a 48-megapixel main camera for both iPhone 15 and iPhone 15 Plus, as well as a new contoured edge and textured matte finish for a better in-hand feel.
Apple upgraded the hardware for both non-Pro iPhones with the A16 chip that we saw with the iPhone 14 Pro models and a second-generation Ultra Wideband chip for Precision Finding when using Find My. The iPhone 15 and iPhone 15 Plus will come in pink, yellow, green, blue, and black.
PRICE BUMP INCOMING
Apple is indeed bumping up the starting price, but only for the iPhone 15 Pro Max. While the iPhone 14 Pro Max starts at $1,099 and comes with 128GB of storage, the iPhone 15 Pro Max gets hiked up to a starting price of $1,199 with a 256GB model instead. That's only $100 off from the starting price of the latest MacBook Pro.
Thankfully, the iPhone 15 Pro still has the 128GB model that starts at $999. Apple is also keeping the pricing for its non-Pro models the same, with the iPhone 15 base model starting at $799, while the iPhone 15 Plus still starts at $899. Pre-orders for all the iPhone 15 models start this Friday, but they will be available in-store starting September 22.