Apple's Watch Series 9 and Ultra 2 Get "Double Tap" Gesture and Big Siri Upgrade
An S9 chip will give the Apple Watch Series 9 and Apple Watch Ultra 2 new features like "Double Tap" which lets wearers activate the watch's main button by pinching.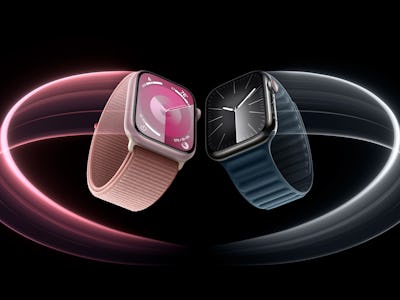 Apple
Apple's "Wonderlust" event was all about the iPhone 15, but that doesn't mean you should sleep on two major additions to the Apple Watch family. If you were thinking about pulling the trigger on buying an Apple smartwatch, here's everything you need to know about the newest additions: the Apple Watch Series 9 and Apple Watch Ultra 2.
Apple Watch Series 9 upgrades
One of the biggest additions to the base Apple Watch (can't believe we're on Series 9 already) is a new and improved chip. The S9 chip should equate to a 30 percent faster GPU and machine learning processing that is twice as fast as the Series 8.
Likewise, a new second-gen Ultra Wideband chip will make Find My connectivity more responsive and enable better integration with devices like the HomePod. Thanks to the new Ultra Wideband chip, Apple says the Series 9 can now suggest HomePod actions — play, pause, and the like — when you're in proximity.
Siri requests are also now processed on-device, meaning you don't have to be connected to the internet to use voice commands on your Series 9 watch.
And speaking of Siri, the Series 9 Apple Watch allows you to access your Health app data with voice commands which means you can ask your watch things like, "How much did I sleep last night?" Siri Health queries will be available later this year in English and Mandarin to start.
Brightness is getting a boost as well. Apple says the Series 9 will now reach 2,000 nits, which is more than double the Series 8. In low light, you'll be able to go all the way down to 1 nit.
While those upgrades are big, the most exciting addition is arguably "Double Tap," a new gesture that allows you to control your watch by simply tapping your index finger and thumb twice.
By tapping that way you can answer or end calls, play or pause music, snooze and alarm, and more. You can even launch Smart Stack on your watch. Apple says Double Tap will be ready next month when a software update hits.
Arguably, the second biggest update is that the Apple Watch is now Apple's first-ever carbon-neutral product, thanks to the use of recycled materials, renewable energy, and a greener supply chain. If you didn't have enough reasons to go to Apple for your smartwatch, this should help sweeten the deal.
And if a better chip, new gestures, and more eco-friendliness aren't enough to sell you, the Series 9 will also ship with a new pink aluminum case.
Apple Watch Series 9 price
The Apple Watch Series 9 is available for pre-order now and will be in stores starting September 22. The Series 9 will start at $399 and go up to $499 for the cellular version.
FineWoven bands
The eco-friendliness doesn't end with the Apple Watch itself. Apple also announced that it's moving away from leather bands in favor of a new material called FineWoven, which Apple says is a "durable microtwill made of 68 percent post-consumer recycled content that has significantly lower carbon emissions compared to leather."
Apple describes FineWoven as having a "suedelike" texture, and we're excited to see what that translates to. The bands will also be available with Magnetic Link and Modern Buckle bands.
Apple Watch Ultra 2
Most of the focus was on the Apple Watch Series 9, but the Apple Watch Ultra also got an update in the form of an Apple Watch Ultra 2.
Major highlights include a brighter screen, which now reaches 3,000 nits. That should make ogling your watch while hiking in full sun a lot easier.
Additionally, the Apple Watch Ultra 2 will also get a new watch face called "Modular Ultra." This new watch face takes advantage of the Ultra's bigger display, using the perimeter of the watch to show real-time data like altitude or depth.
Night Mode on the Apple Watch Ultra 2 will also get a slight upgrade. Apple says the mode will now activate automatically by referencing the ambient light sensor.
Naturally, since the Apple Watch Ultra 2 uses the new S9 chip, it will share upgrades with the Series 9, including on-device Siri and the ability to use the new Double Tap gesture.
Apple Watch Ultra 2 Price
The Apple Watch Ultra 2 will cost $799, is available for pre-order today, and will hit shelves on September 22.