Apple's new HomePod improves on the original in every way
Most importantly, it starts at $50 less than the original HomePod.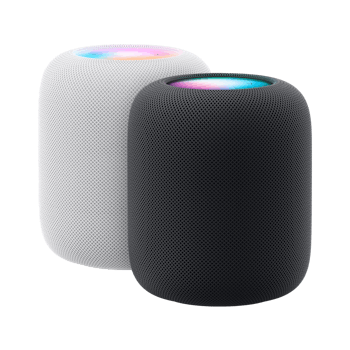 It's basically Christmas in January because following yesterday's announcement of the M2 Pro / M2 Max MacBook Pros and M2 / M2 Pro Mac mini, Apple just announced a new HomePod for $299 that'll be available February 3.
The second-generation HomePod is the successor to Apple's first smart speaker released in 2018. As I had noted in my review, the original HomePod sounded phenomenal, especially when paired with a secondary one in stereo mode. It didn't fly off shelves for a different reason: it was too expensive at $349.
Apple's 2023 HomePod drops the price by $50, refines the design with a display that's more reminiscent of the HomePod mini, and adds Matter support along with other additions for the smart home.
Powerful sound
Anybody who owns an OG HomePod can tell you it blows other smart speakers out of the water. Apple's computational audio still holds up four years later. The second-generation HomePod uses Apple's S7 chip (yes, from the Apple Watch) and all-new acoustics to deliver equally impressive sound.
From Apple's Newsroom press release:
"With room sensing technology, HomePod recognizes sound reflections from nearby surfaces to determine if it is against a wall or freestanding, and then adapts sound in real time. Precise directional control of its beamforming array of five tweeters separates and beams direct and ambient audio, immersing listeners in crystal-clear vocals and rich instrumentation."
Bass, mids, and highs should all sound as good as the original. This all, um, sounds really great. But until we get a proper listen with our own ears and compare it to the original HomePod, HomePod mini, and other smart speakers, it's impossible to tell how much of a difference in audio clarity the new model has.
Refreshed sustainable design
The new HomePod looks a lot like the old one: there's a touch-sensitive top for controls and mesh fabric covers the outside. The surface, however, is now recessed and glows with the same colors as the HomePod mini. Apple also says the midnight colorway is made with 100 percent recycled material.
Center of the smart home
The original HomePod was supposed to act as a smart home hub for HomeKit-enabled devices. The $400 price tag no doubt made the smart speaker an unattractive option compared to cheaper Echo / Alexa and Google Nest / Google Assistant alternatives. Apple's slow encroachment in the smart home continues with the second-gen HomePod, and with the HomePod mini having made it easier to get into the ecosystem and build out a connected home, the larger HomePod's job is more palatable.
New additions include Ultra Wideband technology for handing off music and phone calls via a tap of an iPhone, connectivity with the latest Apple TV 4K over eARC, Find My support for locating other Apple devices (be it iPhones, iPads, AirPods, AirTags, etc.), and Matter support for a wider range of smart home devices.
A "Sound Recognition" feature can listen for smoke and carbon monoxide alarms and send notifications to your iPhone. And a temperature and humidity sensor can connect to automation for room monitoring.
Release date and pricing
Apple's second-generation HomePod smart speaker is available for order today and available on February 3. Because the device is primarily controlled with your voice, it'll only be available in "Australia, Canada, China, France, Germany, Italy, Japan, Spain, the U.K., the U.S., and 11 other countries and regions starting today" according to Apple.