AirPods Pro 2 Are Switching to USB-C Just Like the iPhone 15
Just like the iPhone 15, AirPods Pro are switching from Lightning to USB-C.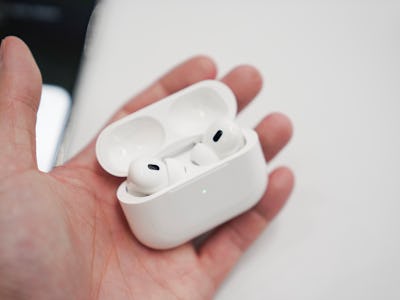 Photograph by Raymond Wong
Alongside the iPhone 15s, iPhone 15 Pros, Apple Watch Series 9, and Apple Watch Ultra 9, Apple also updated AirPods Pro (2nd-gen) with USB-C.
The refreshed AirPods Pro (2nd-gen) come with a new charging case that swaps out the Lightning port for a USB-C one. This small change matches the connector change in the new iPhone 15s and iPhone 15 Pros. With a USB-C-to-USB-C cable, you can charge the refreshed AirPods Pro directly from an iPhone 15 or another Apple device with USB-C such as an iPad or MacBook.
The wireless earbuds also have a new IP54 rating for both the buds and the case, which adds dust resistance. The Lightning version of AirPods Pro (2nd-gen) were IPX4 rated, which only covers water resistance.
Oh, and there's a braided USB-C-to-USB-C cable included in the box. Very nice!
One small tidbit Apple didn't share in the keynote: When paired with the upcoming Apple Vision Pro, users will be able to unlock 20-bit, 48 kHz Lossless Audio thanks to its H2 chip and a "groundbreaking wireless audio protocol" that enables single-digit latency.
We wish there was more, but that's it — everything else about the AirPods Pro (2nd-gen) is the same. It has the same great active noise-cancellation; the same fast and responsive connectivity and hand-off between Apple devices such as Macs and iPads; the same 6 hours of battery life on a single charge. It costs the same as the Lightning version that it's replacing, too: $249.
The upside now is that you'll be able to use a single USB-C cable to charge all of your Apple (and non-Apple devices), so long as they have a USB-C port. Apple hasn't fully transitioned its entire device lineup to USB-C yet — some devices still have a Lightning port — but that should be happening pretty soon.
New features announced at WWDC — including Adaptive Audio and Conversation Awareness — will be arriving in iOS 17 coming out on September 18. Adaptive Audio is "a new listening mode that dynamically blends Transparency mode and Active Noise Cancellation together based on the conditions of a user's environment to deliver the best experience in the moment" according to Apple.
Conversation Awareness lets users start speaking and AirPods Pro will responsively "lower the volume and enhance the voices in front of the user, all while reducing background noise."
Another new feature is Personalized Volume, which uses machine learning to learn your volume settings and adjust them accordingly.
AirPods Pro (2nd-gen) with USB-C is available for order today and releases on September 22.
This article was originally published on