The USB-C AirPods Pro 2 Are a No-Brainer Purchase for Apple Users
The refreshed wireless earbuds also come with IP-rated dust protection and Lossless Audio support with the upcoming Apple Vision Pro.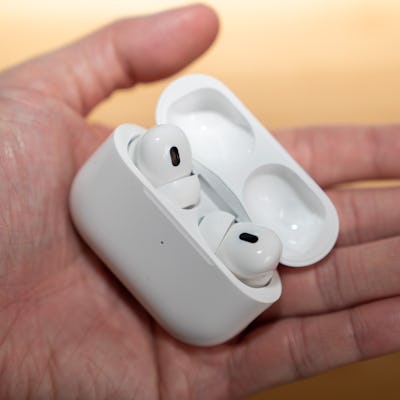 Photograph by Raymond Wong
Apple is releasing new "AirPods Pro (2nd generation) with MagSafe Charging Case (USB‑C)" this Friday, September 22. They are identical to the previous "AirPods Pro (2nd generation)" that came out last year — except for three upgrades.
Those upgrades are: a USB-C port on the charging case that replaces the old model's Lightning port, dust resistance in the form of an IP54 rating, and Lossless Audio support when used with the Apple Vision Pro that launches next year.
If any, or all three, of those features are important to you, the USB-C AirPods Pro 2 (the official name is just too long) are an easy purchase. They sound just as great as the previous Lightning version and have all of the same fantastic features including up to six hours of ANC listening time with a single charge, swipe controls on the stems, a built-in speaker and U1 chip for Precision Finding with iPhone 11 (and later models), and a lanyard loop right on the case.
Own Lightning AirPods Pro (2nd generation) and shrugging at the three features? Not to worry! The three new audio features shipping on the USB-C AirPods Pro 2 are available for free today through the iOS 17 software update for iPhone and iPad.
Minor Additions
I know a lot of people who are over the moon to see Apple drop Lightning for USB-C on the new USB-C AirPods Pro 2. The port switch means two things: 1) you can use a single cable to charge the earbuds and USB-C iPhones, iPads, MacBooks, or any non-Apple USB-C device and 2) you can charge the USB-C AirPods Pro 2 directly from another USB-C Apple device using a USB-C-to-USB-C cable. For example, charging USB-C AirPods Pro 2 from an iPhone 15, something previously not possible. USB-C Apple devices will charge the USB-C AirPods Pro 2 at 4.5W. Charging the USB-C AirPods Pro 2 from another USB-C Apple device is especially convenient when you're on the go and do not have a battery pack or access to a Qi wireless charging mat, MagSafe charger, or Apple Watch charger.
Included with the USB-C AirPods Pro 2 is a white braided USB-C-to-USB-C cable. It feels a lot higher quality than the thermoplastic elastomer (TPE) material used for Lightning cables. Time will tell if this braided cable is actually more durable and less prone to breakage. As someone who has been using the braided Lightning cable that comes with iMacs for over two years and has not seen any damage, I'm optimistic about the durability.
Both the earbuds and the charging case carry an IP54 rating; the "5" translates to protection against dust and the "4" means protection from water splashes. The old Lightning AirPods Pro (2nd generation) were IPX4-rated. I have no way to confirm the new dusting rating so I'll have to take Apple's word. At the very least, they should better survive a trip to Burning Man.
I also couldn't test the Lossless Audio support with Apple Vision Pro because the spatial computer doesn't launch until early 2024. According to Apple:
The H2 chip in the latest AirPods Pro and Apple Vision Pro, combined with a groundbreaking wireless audio protocol, unlocks powerful 20-bit, 48 kHz Lossless Audio with a massive reduction in audio latency.
Lossless Audio support with Apple Vision Pro is exclusive to the USB-C AirPods Pro 2 for now. What's weird is that the Lightning AirPods Pro (2nd generation) will not support Lossless Audio with the headset despite having the same H2 chip. There's either something hardware-related in the Lightning AirPods Pro (2nd generation) that prevents Apple Vision Pro compatibility or Apple is purposely limiting Lossless Audio to the USB-C model.
Same Terrific ANC Wireless Earbuds
The rest of the USB-C AirPods Pro 2 works exactly the same as the Lightning model. The wireless earbuds block out an incredible amount of sound with noise-cancellation turned on, the sound quality is excellent across a range of frequencies, and the Transparency mode is one of the best (if not the best) on any wireless earbuds. Battery life and charging are tops: up to six hours of ANC listening time with a single charge and up to 30 hours of ANC listening time total with the charging case; a five-minute charge in the case provides 1 hour of listening time.
Features like Spatial Audio and Personalized Spatial Audio allow for more immersive sound experiences when listening to content mastered in spatial audio or Dolby Atmos. Ahsoka sounds so much richer in Spatial Audio with head-tracking; footsteps sound more realistic, roaring starfighters are more alive, and lightsabers clashing feel more deadly.
When the Lightning version of AirPods Pro (2nd generation) launched, they came with a feature called Adaptive Transparency that reduced loud (85 decibels or higher) external noises like construction tools, speakers at a concert, or a vehicle's siren. On the USB-C AirPods Pro 2, Adaptive Transparency is now a setting feature called Loud Sound Reduction.
On the USB-C AirPods Pro 2 and via the iOS 17 update for Lightning AirPods Pro (2nd generation), the new Adaptive Audio works like a middle ground between Transparency and active noise cancellation modes. Adaptive Audio reduces background noise such as "group chitchat at the office, a vacuum at home, or the din of a local coffee shop" according to Apple, and provides some transparency and some active noise cancellation while listening to music. I'm more of a full-on ANC or Transparency guy, but Adaptive Audio is a good in-between option.
The other two features that ship on the USB-C AirPods Pro 2 out of the box are Conversation Awareness and Personalized Volume. Conversation Awareness detects when you're talking and lowers the volume, reduces background noise, and bumps up voices in front of you. I tried this at Starbucks and it worked as advertised. I told the female cashier my order and without any intervention on my part, the volume on the song I was listening to lowered, the loud club-like in-store music reduced a little bit, and her voice sounded clearer. When I stopped talking, the AirPods Pro returned to their original settings. It takes a second for Conversation Awareness to turn on and off, but it works really well. It's even smart enough to know if you're humming or talking softly to yourself, in which case it won't kick in; Conversation Awareness will activate if you talk to yourself at a normal volume or sing to yourself which can get annoying.
Personalized Volume uses machine learning to automatically adjust the volume just for your ears. Apple says Personalized Volume is determined by "environmental conditions and volume selections" over time. I didn't notice any meaningful volume adjustments over a week of testing so I turned it off. My better half is nagging me to turn it back on in order to protect my hearing, though, because I tend to push the volume higher than I need it.
Adaptive Audio, Conversation Awareness, and Personalized Volume are all opt-in and you can turn off the features if you don't want to use them.
Also shipping on the USB-C AirPods Pro 2 and available in the iOS 17 update for the Lightning version: faster Automatic Switching between Apple devices. I tested this with a 14-inch MacBook Pro and M1 iPad Pro and Apple has definitely reduced the amount of time you have to wait for AirPods Pro (2nd generation) to switch between devices. It's a tiny change that might go unnoticed because it works so effortlessly, but if you do switch between Apple devices many times a day like I do, you will appreciate it.
Still The King
With USB-C and increased dust resistance, the AirPods Pro (2nd generation) with MagSafe Charging Case (USB‑C) are more like a 2.5 update. That's not necessarily a bad thing because they're just a tweaked version of what already were phenomenal wireless earbuds.
If you already own the Lightning version and the battery life is still going strong, there's no need to get these unless you absolutely need the USB-C port or you're always in dusty places. (Maybe you work on a construction site or you're an adventurer!) Apple unfortunately doesn't sell just the USB-C charging case on its own. Otherwise, the USB-C AirPods Pro (2nd generation) are excellent and worth upgrading from regular non-ANC AirPods or non-Apple wireless earbuds.
Since the original AirPods in 2016, Apple has designed its wireless earbuds to outclass the competition and work best with iPhones, iPads, and Macs. That remains the same with these refreshed AirPods Pro (2nd generation). The USB-C AirPods Pro 2 are simply the best wireless earbuds for Apple users. Period.
Photographs by Raymond Wong
This article was originally published on