Apple's iOS 17 and iPadOS 17 Bring Your iPhone and iPad Closer Together
New tablet and smartphone features that bring Apple's software ecosystem even closer together.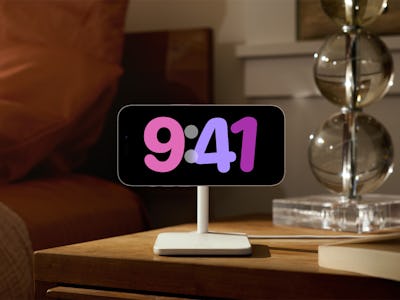 Apple
Apple introduced the next version of iOS and iPadOS during its WWDC 2023 keynote today, and while they don't have anything to do with the company's augmented or virtual reality plans, they are bringing some meaningful improvements to iPhones and iPads.
Unlike previous years, neither update seems like it's bringing dramatic visual overhauls of the interfaces we know and love, and the focus instead seems to be parity. Introducing new apps and functionality across platforms so that everything works better together and it's easier to move from device to device.
New Apps
Well, it finally happened; the iPad is getting the iPhone's Health app. The new Health app lets you view interactive health records and other health data in a secure, big-screen format. It doesn't seem that different than the iOS version, but feature parity isn't a bad thing in this case.
The Journal app, which is coming to iOS later this year, is another attempt from Apple at finding more social media-oriented use cases for your iPhone. It works a bit like the automated slideshows and videos the iOS Photos app can generate entries with photos and the audio you listened to, photos you took, and locations you visited, with space for your own original writing too.
Improved Apps and Features
Older apps and features on both iOS and iPadOS are also expanding to encompass more of the areas Apple is interested in and match many of the software ideas that have been introduced in Android and Windows over the last few years.
The Phone app can now display "Personalized Contact Posters" that are entirely customized for each contact in a similar style to iOS' customizable locks screen. These include unique fonts and colors and will also extend to those contacts' cards in the Contact app. For the calls you don't answer, Live Voicemail transcribes the voicemails people leave after a missed call so you can see if you want to pick up. It's basically Google's AI-powered call screening but for iPhones and animated on the lock screen rather than a separate interface.
In iMessage, you'll be able to sort through chats with search filters, and the company is introducing a new interface for iMessage apps and stickers to free up space on the iOS keyboard. The new sticker interface will also be supported in all apps where iOS emoji are available, dramatically increasing the number of places you can slap embarrassing pictures of your friends.
For iPad, the biggest update to an older app is Notes. The Notes app is now the home of PDFs on iOS and iPadOS, supporting all of the expected mark-up drawing tools and Apple's live collaborative features so you can annotate PDFs alongside coworkers and classmates.
A Better Lock Screen
The iPhone first got its customizable lock screen last year, and now finally, iPad users will get a taste of the action with iPadOS 17. The personalized lock screen on iPad works in more or less the same way as iOS, just with different wallpaper options and a different orientation for lock screen widgets. On the home screen, widgets will now be interactable, like they should have been since launch.
Apple isn't leaving the iPhone out, of course. Now a new lock screen mode called "Standby" will let your phone act as a sort of smart display for passive information when it's horizontal and charging. These can use enlarged versions of the widgets or just an interface for Siri commands, but it gets the iPhone much closer to working as an Echo Show or Nest Hub.
Release Date
Apple will release iOS 17 and iPadOS 17 this fall. Betas for developers are available later today and will enter Apple's public beta program this summer.