Autocorrect Is a Nightmare and iOS 17 Is Finally Fixing It
There was a lot to unpack from WWDC 2023, but Apple's quiet update to iMessage could make your message misery less miserable.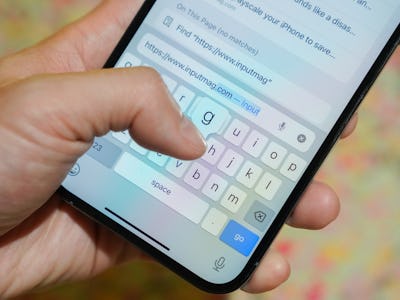 Photograph by Ray Wong
In a deluge of WWDC 2023 news, it's easy to get lost in the sauce. There's a groundbreaking headset called the Vision Pro; there's a first-of-its-kind 15-inch MacBook Air; there are brand spankin' new versions of iOS, iPadOS, and macOS; there are unintentionally creepy AI avatars. And in all of those major moves, there's one thing I can't stop thinking about. I'll give you a whole ducking dollar if you guess what it is.
If you guessed autocorrect, you're well... Automatically correct.
And why, might you be asking, am I fixated on one of the most ho-hum features in all of Apple's software repertoire? Well, for one, it got a quiet, but noteworthy, mention at WWDC's keynote stage. With iOS 17, Apple's senior vice president of software engineering, Craig Federighi, assured us, autocorrect is getting both smarter and easier to use.
But more importantly than what's new with autocorrect is what isn't. Apple's iOS keyboard has been in desperate need of help, and so are your poor, misunderstood thumbs.
The iMessage Blues
Typing on a smartphone has come a long way since the days of T9, and if you're an iPhone user, you can have one feature to thank: autocorrect. Maybe you're too young to remember what typing on nascent touchscreens was like, or maybe you've forgotten, but they weren't always as responsive and accurate as the displays we have now.
I remember (both fondly and not) the thrill of having a touchscreen on a phone and then the inevitable agony of actually trying to use it. That is until I got my first iPhone.
Autocorrect acknowledged an intrinsic problem with what would become the modern smartphone form factor, which is that tapping out text on QWERTY keyboard atop a flat glass surface is hard. So, to help save you from typo hell, you'll need a little software assistance.
And in that goal, autocorrect has done a pretty good job. Pretty good, that is. I think I speak for lots of iPhone users when I say that sending your friends a message could be a little less aggravating. It's impossible to eliminate human error, but persistent problems still exist with predictive text and autocorrect — Apple acknowledged as much with its own self-deprecating "ducking" joke during its WWDC keynote.
It's hard to quantify if quality has actually slid over the years or whether our standards are just higher, but I think what you could say — with more authority — is that the experience of using the iOS keyboard has not drastically improved. Sure, we've gotten add-ons like predictive text (the little block above your text field that tries to predict the word you're about to type) and QuickPath, which allows you to swipe-type between letters without lifting your finger off the phone's display. But for me, those evolutions haven't solved my gripe. I don't want to replace autocorrect, I just want to like it.
The "Fix" in iOS 17
As stagnant as Apple's iOS keyboard has been, the good news is that with iOS 17, the crux of what makes autocorrect so spotty might finally be addressed. While Apple's inability (or refusal) to autocorrect "ducking" to, um, not "ducking" stole headlines, the changes are a lot deeper than that.
One of the biggest shifts will likely come in the form of amped-up AI. Apple says that it's now using a "transformer language model" that will run its machine-learning algorithm every single time you press a key on the keyboard. Theoretically, that should give autocorrect fewer chances to misconstrue the word you're typing. It's easy to forget, but at the end of the day, autocorrect is still built around AI, and if that AI is smarter, your texts should be too.
Secondly, iOS 17 will make giving feedback to autocorrect a lot easier. Federighi showed how iPhone users will now be able to correct the corrector by tapping on a word that has been wrongfully corrected and reverting said word to the original entry. As is the case with everything else you do on the iOS keyboard, AI will learn your corrections and (hopefully) stop making the same mistakes in the future.
Outside of autocorrect, Apple also teased in-line predictive text that allows users to tap on the space bar to finish a sentence — again, every time you finish a predicted sentence, your keyboard should learn your typing habits more closely. Dictation even got a little update with the same transformer model as autocorrect.
It doesn't take an expert to see that Apple clearly targeted its iOS keyboard as an area of concern — and smartly. Like it or not, apps like iMessage are still core to not only the Apple experience but to Apple's bottom line. The fear of leaving the Apple ecosystem and being green-bubbled is a potent one, but if typing on your phone (iMessage in particular) is no longer a tenable experience, then seeking greener pastures (pun intended) makes a lot more sense.
It remains to be seen just how substantial the iOS 17 updates will be on your iOS keyboard experience but I think I can speak for most people when I say it's about ducking time for an upgrade.