macOS Sonoma Makes Gaming and Using Widgets a Lot Smoother
Instead of being tucked away in the Notification Center, you can install Widgets on your desktop.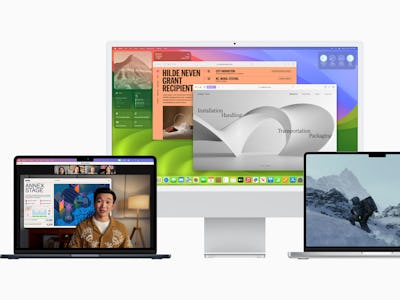 Apple
Apple's new Vision Pro mixed reality headset may have stolen the show at WWDC 2023, but it's not all about hardware — after all, you need good software to make sure the devices run smoothly. To go along with its new Macs, Apple announced macOS Sonoma as a follow-up to the current macOS Ventura.
It's not the major visual redesign that we saw with macOS Big Sur, but builds on the latest incremental upgrade that we saw with macOS Ventura. The updates feel like much-needed tweaks to how macOS handles the design of widgets but include quality-of-life improvements with gaming, surfing with Safari, and even video conferencing.
WE LOVE WIDGETS
During last year's WWDC, Apple introduced widgets on the home screen of iPhones. However, widgets were stuck sequestered behind the sliding Notification Center on macOS throughout the life of macOS Ventura. Now that iPhone users have been making unique home screens for a while, Apple is finally bringing the same level of customization to macOS. To help with clutter, widgets will fade into the background and intelligently match your background color when you have another task open. You can even use Continuity to take advantage of widgets already installed on your other Apple devices without the need to install them on your Mac device.
For gaming, Apple is introducing Game Mode with macOS Sonoma which programs your CPU and GPU to prioritize whatever you're playing. Apple understands there's nothing worse than lag when gaming, so Game Mode cuts down on audio latency with AirPods and reduces input lag with popular controllers, like those from Xbox or PlayStation.
With video calls being a mainstay in everyone's work life these days, Apple updated its video conferencing with a Presenter Overlay mode that intelligently displays you on top of whatever content you're showing. You can even activate Reactions like balloons, confetti, and hearts using hand gestures.
MINOR TWEAKS
For web browsing, Apple updated Safari to make it harder for websites to track or identify you when you're surfing the web via Private Browsing. You can also bounce between profiles, like ones set for school, work, or personal, that each has its own cookies, history, extensions, tab groups, and favorites.
On a smaller scale, macOS Sonoma will have a high-performance mode for screen sharing, new screensavers that feature slo-mo videos that transition into your desktop, shareable passwords, an improved keyboard autocorrect, and intelligent grocery lists in Reminders.
BETA TESTERS WANTED
As usual, Apple already released the developer beta for its latest macOS for developers. Apple says the public beta of macOS Sonoma will be available next month. As for the official release, we can expect that sometime in the fall. For reference, Apple released macOS Ventura in October last year.