9 MagSafe iPhone Stands That Are Perfect for iOS 17's StandBy Feature
Prepare for iOS 17 and stay ahead of the curve with these MagSafe stands.
by Henri Robbins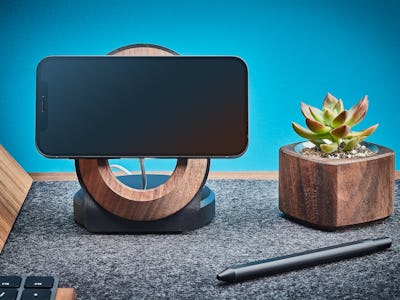 Grovemade
We may receive a portion of sales if you purchase a product through a link in this article.
If you've thought about buying a smart display but can't justify pulling the trigger on yet another device, Apple's iOS 17 update has just what you need.
An upcoming feature called StandBy transforms your iPhone into its own display that can deliver information at a glance, turning your phone into an ambient calendar, clock, or rotating photo gallery while it's not in use. As handy as StandBy might be, the feature only works when your phone is charging while placed horizontally, which pairs well with Apple's MagSafe feature.
If you're like most people and you don't have a compatible stand for this new feature, we've compiled a list of elegant and functional MagSafe stands and mounts that will work with StandBy and hopefully fit your aesthetic standards.
Simple, yet effective
If you already have a MagSafe charger sitting around, it just makes sense to get a charging stand that can use it. It'll cost less and generate less e-waste. And there's a lot going for this stand, too — it's simple, light, and articulated. Along with that, it's in line with the traditional Apple look: sleek, simple, and unobtrusive.
This option ends up being one of the standouts for me because of how much it does with so little engineering. No unnecessary features, and no over-complication.
Even Simpler
If you really don't want any bells or whistles, the Belkin BoostCharge Pro is as simple as it gets for StandBy compatibility. It's a MagSafe charger with a horizontal kickstand, and nothing else. No stand, no arm, and hardly any extra bulk means you can easily keep your phone charging while you're using it, too. This charger is also a great option if you're still committed to a pair of wired earbuds and want to charge your phone while using them.
Plus, you don't have to drop an extra $30 on an actual MagSafe charger — this is an all-in-one package.
Robust multi-use
If you just can't get over the weird shape of Belkin's 3-in-1 charger, and if you only need to charge two of your devices with MagSafe, OtterBox's 2-in-1 charger is probably a better option. This charging tower is MagSafe-certified, looks alright, and has all the same bells and whistles as any other charger, along with a hinged phone mount for multiple viewing angles.
Budget Kickstand
ESR's name may not carry the same weight as some of the other entries on this list, but their HaloLock charger is really clever. It works as both a USB-C charger and a MagSafe kickstand, so you can kill two birds with one stone. It also runs at around half the MSRP of Belkin's charger, making it a far more effective budget option (because let's be real, no charger needs to cost $60+).
Premium MagSafe Holder
Everything I've seen or owned from Nomad has felt incredibly high quality and durable, without any cut corners, and this MagSafe charger stand isn't an exception. It's a singular chunk of machined zinc alloy that you put Apple's first-party charger into. That means no moving parts, no weak points, and basically no way for this stand to fail. Plus, the design itself is incredibly sleek and simple — one of the two color options will blend in with almost any environment.
Wall-mounted clock
If you already have a surface you want your phone to be attached to when on StandBy, or if you want to transform your phone into a wall-mounted clock, there are dozens of different options for wall-mounting your phone. But none of the other options I've found allow for wireless charging — much less first-party MagSafe charging. And none of them are particularly elegant, either.
Oakywood's wall-mounted MagSafe charger holder is an aesthetically pleasing solution. It's simple, clean, and endearingly modern. While it's definitely not the solution for everyone, it's still a great choice if you want your StandBy mode to be more reminiscent of a traditional clock.
Desk- or shelf-mounted charging
While this practically does the same thing as a regular stand 99 percent of the time, this clamp-on mount is a good option if you're running out of desk space, or if you're particularly worried about your phone/charger falling off the table in some way or another. It's a bit expensive, but it's one of the only options where you aren't relying entirely on gravity to keep your device where it is. If you're looking for something secure, this is probably the best option, even if it seems a bit absurd at first glance.
The Overkill Option
Yes, this is an almost $200 option in total. No, you don't even get the actual MagSafe charger with it. And yes, it is a bit ridiculous. But it's also gorgeous and made in the U.S. with premium materials.
Really, I think this stand is brilliant — it takes the original, Apple-made MagSafe charger and elevates the design, adding utility without asking you to rely on a third-party charging system. Sure, it's annoying to buy the actual charger separately, but at least you'll know you're charging as efficiently as possible (which can't necessarily be said for every MagSafe-compatible charger on the market today).