An iMac With a Screen That's Over 30 Inches Might Be On The Way
This could be the iMac content creators have been waiting for.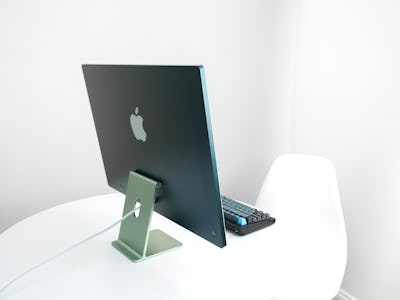 Photograph by Raymond Wong
Apple has a huge lineup of products in the works for the rest of this year into the first half of 2024 according to Bloomberg's well-connected Mark Gurman. The iPhone 15 series and Apple Watch Series 9 and Ultra are expected in September, but the most interesting part of Gurman's latest report is that Apple has started work on what could be its largest iMac ever.
Gurman says Apple has started "conducting early work on an iMac with a screen over 30 inches." The current M1 iMac has a 24-inch 4.5K Retina display and is smaller than the previous iMac and iMac Pros with 27-inch 5K Retina displays (discontinued in March 2022).
It's possible that Apple could position an iMac with a larger display as an "iMac Pro" given that 24 inches is not enough screen real estate for many users. Though, you could also argue that a Mac mini or Mac Studio paired with a 27-inch 5K Studio Display now serves that consumer. That being said, an iMac with next-gen Apple silicon (M3 chip?) and, perhaps, a screen similar to that of the 32-inch 6K Pro Display XDR, would be pretty attractive, especially for content creators.
Refreshing the Whole Mac Lineup
Apple is also planning updates to its entire Mac lineup of desktops and laptops. A new 24-inch iMac is planned, likely with more powerful chips. The current model launched in 2021 and hasn't seen a refresh since; rumors suggest Apple is skipping any M2 chip upgrade and jumping straight to an M3 chip.
On the laptop front, the company is working on new versions for its 14- and 16-inch MacBook Pros with M3 Pro and M3 Max chips. They were just updated earlier this year so we wouldn't expect anything until 2024 at the earliest. There's simply no need for Apple to add more performance so soon. Weirdly, Gurman says a new 13-inch MacBook Pro with M3 chip is in the works. The M2 13-inch MacBook Pro was panned for its dated design (and enduring Touch Bar). And then, there are new MacBook Airs; no word on what kind of chips these would use or whether they'd be for the 13 or 15-inch model. Apple just released the 15-inch M2 MacBook Air.
More iPads Incoming
Moving on to tablets, Apple is said to be readying new iPad Pros with OLED displays. Current iPad Pros use mini-LED display technology for deep blacks, increased brightness, and wide dynamic range.
Gurman also says a new iPad Air will launch to replace the existing one released last year.