Here's a First Look at Apple's Practical-but-Appealing 15-Inch MacBook Air
It's an easy win for Apple.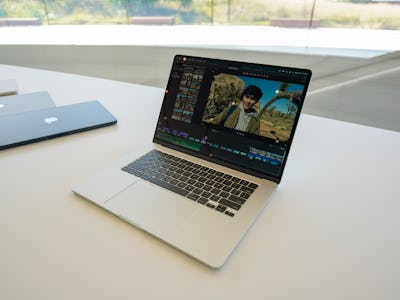 Photograph by Raymond Wong
The Vision Pro and its kickstart to "spatial computing" was the biggest announcement at Apple's WWDC 2023, but its $3,500 price tag and release in "early next year" means it's not something that will instantly win anyone over.
But you know what new Apple product you can get soon (two weeks) and for less than half the price? The 15-inch MacBook Air with M2 chip. I got to spend 40 minutes with the biggest MacBook Air that Apple has ever made, and while it's a pretty straightforward product, I think it's being overlooked. It's going to be very popular.
Let's start with the price: $1,299. For a 15-inch laptop. With Apple's stupid powerful and energy-efficient M2 chip. Up until yesterday, the 13-inch model cost $1,199; now it's $1,099.
Jumping up from a 13.6-inch display to a 15.3-inch screen might not seem like a whole lot, but measured diagonally, you get a noticeably larger display both vertically and horizontally: 2,880 x 1,864 resolution versus the 13-inch M2 MacBook Air's 2,560 x 1,664 resolution. Just $200 more buys you a larger screen you can really appreciate.
The 15-inch MacBook Air is also barely thicker than the 13-inch model: 0.45 inch versus 0.44 inch. The weight threw me off. As the owner of a 14-inch MacBook Pro, the 3.3-pound 15-inch MacBook Air felt nearly as heavy. It's not nearly as light as the 2.7-pound 13-inch MacBook Air.
That weight tradeoff also made me wish for a few things. Either battery life was significantly longer than the 13-inch MacBook Air — both last up to 18 hours on a single charge — or it would have been nice to get an extra Thunderbolt port or an SD card slot. I know why Apple didn't add either of those features because if you want them, you should get a MacBook Pro. But still, it would have been nice to see something a little extra with the larger screen seeing as how the specs (CPU, GPU, RAM, and storage are all identical).
I suppose there is one other feature that differentiates the 15-inch MacBook Air from the 13-inch version: the six-speaker sound system with force-cancelling woofers. Apple's super nice attendant cranked the volume up for me, and ooh yea, it sounds terrific. The speakers are still coming out from the hinge as opposed to firing out of grills flanking the keyboard, but even so, they deliver more low-end than the 13-inch model. That much was very obvious.
Obviously, this is not a review or anything, but color me impressed by the 15-inch MacBook Air. It's nothing fancy, but that's also its secret appeal. It's affordably priced, the bigger screen is excellent, the performance crushes, and the battery life is damn long. Not every Apple product needs to be bleeding edge. Sometimes, simple is best.