Apple's Vision Pro Headset Is a Wild Stab at the Future of Computing
The company is betting a lot on some virtual reality goggles.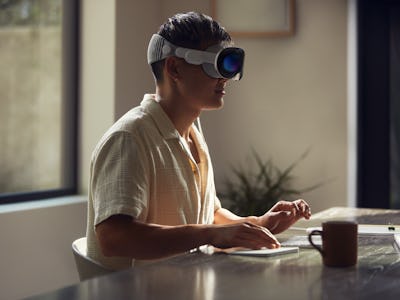 Apple
We can all breathe a collective sigh of relief; Apple has made its long-rumored and hotly-anticipated headset official at WWDC 2023. The $3,499 Apple Vision Pro is focused on mixed-reality experiences but is very much entering the space popularized by Oculus, Meta, and HTC, strapping people to screens and making them interact with virtual objects using their hands (or controllers).
Apple's ultimate vision for its Vision "spatial computer" isn't yet written, but its explanation of the operating system that will power them, visionOS, gives a pretty big hint of how the company thinks it's cracked the next computing platform to rival the iPhone.
Expensive Goggles
Apple's new headset shares the general shape of most modern VR headsets, just with a thinner build and a surprisingly un-Apple cable that connects to a wearable battery pack.
Vision Pro clearly draws inspiration from the Apple Watch with a scrollable knob for controlling your amount of immersion in virtual environments, a fabric head strap, a detachable battery cable, and a button for capturing photos and videos using the device's 12 cameras. The "Light Seal" that surrounds the inside of the device is also modular and can be replaced to fit different face shapes.
And, of course, there's EyeSight, what Apple is calling the curved OLED exterior display and software combo that shows your eyes while you're using the device. When passthrough is enabled, and you're not actively engaging with an app, your eyes and face are fully visible, but as you become more immersed, the exterior display introduces a graphic over your eyes to imply you're distracted.
Inside, the Vision Pro has two "postage-stamp-sized" micro-OLED displays that offer more than 4K resolution per eye. The device itself is powered by the M2 chip Apple uses on its laptop and a new R1 chip specifically dedicated to tracking the world around you and running Vision Pro's various sensors.
It's a lot of new and seemingly custom hardware, from the front glass to the internal components running everything, to the point that it's hard to imagine this won't be a nightmare to repair, and that's not even taking into account the $3,499 starting price and two hours of promised battery life.
VisionOS Is Full of Surprises
VisionOS is clearly a work in progress, lifting elements of Apple's previous operating systems like iPadOS and iOS and introducing an entirely new interface unique to mixed reality and the hand and eye tracking that the Vision Pro is capable of.
There's a grid of apps, just like Apple's other mobile operating systems, but it can be navigated with your eyes. Once an app or multiple apps are open, you can drag them around with just your hands and select things with a pinch of your fingers. Apple seems deeply committed to not using controllers and will include a virtual keyboard and voice dictation for text entry, but you can also connect a Magic Keyboard and Trackpad if you want.
With all of those snazzy displays and built-in cameras, Apple is also pitching the Vision Pro as a photo and video device. VisionOS allows you to record 3D "Spatial Videos" that can only be properly enjoyed on the headset just by pushing the Vision Pro's top left button.
Also, seemingly at any time, you can launch yourself into an "Environment" for distraction-free versions of the various work and entertainment use cases Apple has imagined for the device. These virtual "Environments" are recordings/recreations of real-life locales and seem to be as close as visonOS gets to a VR mode, at least based on what Apple's shared so far.
Outside of those virtual environments, the only other way Apple really gestures in the direction of Meta's virtual workspaces is the Vision Pro's FaceTime app, which now uses new virtual "Personas" to represent you when you're on a call with non-Vision Pro users. They're built off a scan of your face the Vision Pro makes when you set it up the first time and seem very creepy overall.
You aren't just limited to the apps that run on visionOS, though. Apple says you can just look at your Mac to connect the headset to it and use Mac apps on a larger virtual display. VisionOS can also run select iPadOS apps, according to Apple, and will support "over 100 [Apple] Arcade" titles at launch. Any other new software will have to be downloaded through the Vision Pro's App Store.
Release Date
The Apple Vision Pro is expected to be released in early 2024, starting at $3,499. Apple hasn't announced when visionOS will be widely available for developers.