HTC Vive XR Elite Review: The Comfiest VR Headset I've Ever Used
The Quest Pro could learn a few things from the Vive XR Elite.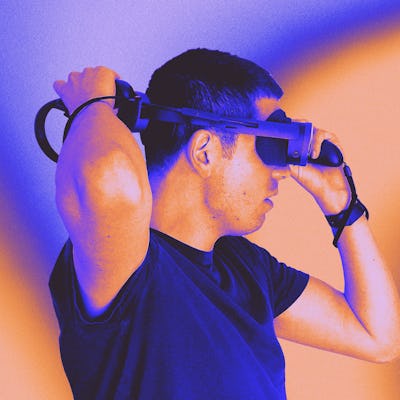 Lais Borges/Inverse
So much of VR depends on a comfortable face cushion. You could even say there's a direct relationship between the comfort of a virtual reality headset and what companies imagine you'll use them for. The lighter and more comfortable the headset, the longer you're expected to wear it for not just a quick game with friends, but for meetings, design work, and other activities.
This change is as much about exploring (and expanding) the role VR can have in our life, as it is tiptoeing towards what several tech companies — Meta, Apple, and Google, just to name a few — seem to view as their holy grail: augmented reality glasses. A future tech platform so lightweight, unobtrusive, and — nevertheless — pervasive, that you'll wear it and use it all day. The Quest Pro is a great example of this strategy. It was Meta's first stab at offering high-quality AR-ish experiences (unfortunately angled on work and productivity) and it was the best VR tech the company could muster at the time.
HTC's $1,099 Vive XR Elite seems to dance to the same tune. It's HTC's first premium headset open to a general audience in a minute — the phone-connected HTC Vive Flow notwithstanding — and it's got the same capability to be a work tool and an entertainment machine as Meta's device. The "glasses mode" makes the Vive XR Elite nicer to wear, and yet, it can't seem to escape the awkward middle phase that mixed reality experiences are in, or the rough and tumble nature of HTC's software.
Modular Hardware Reigns Supreme
From the second I unboxed the Vive XR Elite's box, I knew I was dealing with a level-up in terms of hardware. This is a small headset that's noticeably compact even if you're unfamiliar with VR, and very light. The front of the device sits somewhere on the border of goggles and thick sunglasses, just like the Vive Flow, with four tracking cameras spread between the front and the sides, and a 16-megapixel passthrough camera in the center.
On the top of the headset, there's a vent for an internal fan and a power button. The arms extend out the sides, with directional speakers for audio running along the inside and volume controls on the left arm. The elegance (or annoyance depending on your perspective) of the Vive XR Elite really begins and ends with what HTC is doing on the inside of the device.
First, there's the fabric face cushion, which magnetically attaches and is soft and supple without making you sweat after wearing the headset for an extended period of time — the best I've felt on any VR device. And then there are the diopters, which can be adjusted between six different stops to simulate prescription lenses. The headset doesn't leave much room for larger prescription glasses (or stronger prescriptions), and will likely need some kind of official adapter to accommodate these users. It's important because the glasses-free experience is ideal and the one the company seemed to design the headset around. It gets your eyes closer to the images, removes the need for constant adjustments, and the Vive XR Elite's onboarding process does a good job of guiding you through setting the diopters and lens spacing through the IPD slider along the bottom of the headset.
In comparison to the Quest Pro and other VR headsets, the Vive XR Elite gets the closest to feeling like an actual fashion accessory. Maybe not visually, but its shape, lightweight nature, and general modularity really make it wearable in a way many Quest and Vive headsets aren't. The Vive XR Elite comes with two possible setups to make that happen. In its "glasses mode," where the headset arms clip into little extenders that end in rounded nubs, the Vive XR Elite is really meant to be connected to another device like a laptop to view PC VR content or act as an external display. In its "standalone mode" with the adjustable battery strap attached, the Vive XR Elite works like the Quest 2 or any other standalone inside-out tracked headset. That you have the option to choose between the two, and that HTC plans on rolling out add-ons to extend functionality even further down the road, feels like features a $1,099 device should have.
It Gets the Basics Right
The experience of using the Vive XR Elite was very similar to the Quest Pro and basically any other high-end headset. Apps and games loaded quickly, controller tracking went off without a hitch (HTC isn't doing independently tracked controllers, unlike Meta), and hand tracking was adequate, if a little glitchy in low-light settings. Battery life didn't really exceed the two hours the Quest Pro gets, but the somewhat hot-swappable nature of the battery strap means you could have another ready to go once the first dies.
Vive XR Elite Tech Specs
Display: 1,920 x 1,920 pixels per eye (3,840 x 1,920 combined), 90Hz refresh rate, 110-degree field of view
SoC: Qualcomm Snapdragon XR2
Storage: 128GB
Memory: 8GB RAM
Battery: 24.32 Wh Battery
Like other VR headsets, the Vive XR elite uses the Qualcomm Snapdragon XR2 to power its experiences, along with 8GB of RAM, and I ran into no issues while playing fast-paced shooters like Hyper Dash or more laidback titles like Puzzling Places. On the Vive XR Elite's 3,840 x 1,920 combined resolution, games were crisp, though a bit duller than the Quest Pro, even though Meta's headset has a lower combined resolution of 3,600 x 1,920. You can probably chalk that up to the difference in brightness on the mini-LED displays of the Quest Pro versus the LCDs of the Vive XR Elite. HTC's headset is better at passthrough mixed reality, though. I found the passthrough image to be clearer and more legible than the Quest Pro, especially when I got up close to read text off my phone or a notebook.
The only issue I ran into — it's not so much an issue as it is odd — was how loud the fan was. The headset packs a lot of hardware into a compact body so I'm sure it's a challenge to keep it cool. Still, it was surprising to me how often the fan kicked in. It's easy to ignore when you're in an app or game, but it's probably the main place where you'll notice the Vive XR Elite's tradeoff between size and performance.
Exclusive Software Is Missing
Where I think the Vive XR Elite actually struggles, and where all VR hardware has trouble in some sense or another, is software. Viveport, the main storefront for PC VR and standalone experiences for HTC's hardware, just has a different selection of apps than you'll find in the Quest Store, and far fewer exclusives.
Meta's careful curation of its store poses its own problems, based on a recent report in The Wall Street Journal, but the company has paid to get great apps and games on Quest headsets, and it shows. In contrast, Viveport is more of a wild west. HTC has the better business model in Viveport Infinity, which lets you pay a monthly subscription for access to a large selection of apps and games you can use on any headset, even competing devices. But in my week with the Vive XR Elite, I didn't really stumble on any app or game that felt like an essential must-play experience; the most popular VR apps can be played elsewhere. The one exception was Maestro, an orchestra-conducting-themed rhythm game, which kind of perfectly combined controller and hand tracking into a complex and entertaining bite-sized experience that had me living out my most unfortunate Tár fantasies.
Software poses a problem outside of what's available to buy too. Navigating the menus of the Vive XR Elite, and Viveport itself, is just a far less polished experience than what you'll get on Meta's devices. I was critical of the Quest Pro for not having a software experience that kept up with the big strides Meta was trying to make in terms of hardware, but the problem feels even more acute on the Vive XR Elite. What HTC is offering is completely serviceable, but I wouldn't say it feels appropriate for a $1,000 product.
The Vive XR Elite isn't helped by the fact that its basic pitch as a tool for mixed reality experiences isn't backed up by a must-have app. Yes, I still love messing around in Figmin XR. Yes, Nanome with passthrough seems like a great way to look at scientific models and take notes at the same time. But no app has figured out a mixed reality experience that's made me think "Yes, this is why we're focusing on XR." That could simply be a matter of neither my job nor hobbies really having a use for it, but I think more thought has to go into it too. At least the Vive XR Elite supports SteamVR out of the box.
Should You Buy It?
The case for the Vive XR Elite isn't as cut and dry as I was hoping it would be when I first tried the headset at CES 2023 earlier this year. I love HTC's hardware, it's a huge improvement on what's out there and will be broadly available to a general audience instead of requiring a gaming PC or being exclusively designed for enterprise customers. But it also has the same problem that all new form factors have, be they wearables or folding phones. We still haven't figured out the right software.
The biggest point in the Vive XR Elite's favor, and why I'd say at least consider it if you're in the market for a step-up VR experience, is that if you're at all interested in flexibility, this headset has got it in spades. HTC's modular hardware means the Vive XR Elite can grow in capabilities over time, and the simple fact that the Vive XR Elite can easily straddle PC VR and standalone experiences from multiple VR storefronts immediately makes it a more compelling case than a Quest headset. HTC is more open and more accommodating to the enthusiast than Meta will probably ever be. That could very well be worth the added price now that Meta's cut the cost of the Quest Pro.
Photographs by Ian Carlos Campbell and Raymond Wong