Meta's $500 Quest Pro Price Cut Reeks of Desperation
Slashing the price by a third is one way to get ahead of the competition.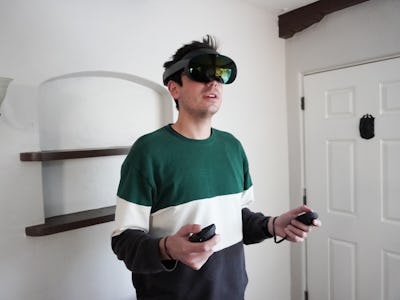 Photography by Ian Campbell
Meta is permanently lowering the price of its more expensive headsets, the Quest Pro and 256GB Quest 2, in some cases by as much as $500.
The 256GB Quest 2 is going from $499.99 to $429.99, while the more advanced Quest Pro is dramatically shifting from $1,499.99 to $999.99. The price changes for the Quest Pro should go into effect in the U.S. and Canada on March 5, and on March 15 everywhere else the headset is sold. Meanwhile, the Quest 2 price change goes into effect on March 5 in Australia, Austria, Belgium, Canada, Denmark, Finland, France, Germany, Iceland, Italy, Japan, Netherlands, Norway, South Korea, Spain, Sweden, Switzerland, Taiwan, the UK, and the U.S.
The price adjustment better aligns with Meta's goal of creating "hardware that's affordable for as many people as possible," but also feels a bit like a desperate attempt to undercut competition like HTC and, theoretically, Apple, before their competing mixed reality hardware launches later this year.
A poor pitch
The Quest Pro has some great ideas — foveated rendering, self-tracking controllers, and a charging dock — packaged and pitched for "the future of work" in a way that proved far more niche than Meta needs it to be right now. The significant advancements it made with the headset, like a new thinner lens design and eye-tracking cameras, also meant it had to be sold at an expensive $1,500 so that Meta wasn't losing its shirt.
Starting things at $1,000 (a third of the headset's original price) immediately makes trying the Quest Pro more enticing, which could benefit the overall metaverse pitch in the long run. Also, as competing devices have been announced or launched — the $1,100 HTC Vive XR Elite has a similar one-strap, streamlined design as the Quest Pro, and the $550 Sony PSVR 2 has eye-tracking — Meta's price for the Quest Pro just put it further and further out on a limb. It had to do something to stay competitive.
The price adjustment to the Quest 2 is more surprising because Meta increased the price last year when it went from a starting price of $299 to $399. At the time, the company suggested raising the price was necessary to fund further developments in VR and AR. Now losing $70 a pop on the more expensive Quest 2 is apparently acceptable.
The eye of the needle
Meta has a tricky path to walk. It's trained enthusiasts to expect lower-cost hardware, despite the company's desire to include more expensive components to pull off more impressive features. There's at least one unknown quantity in Apple, that, if it does enter the VR/AR/XR space, could change what consumers expect from a headset. And there are Meta's future products, which are trying to connect the dots between virtual reality and augmented reality, and will have to be just as popular as past hardware, if not more popular, to do so.
The Quest Pro and Quest 2's new prices situate Meta just below its major competitors while also leaving room in the $500–700 range for new hardware. That's a slot the Quest 3 could fit in, even if, in some ways, it is more powerful than the Quest Pro.
Strategically, a price cut to Meta hardware makes sense, but it's an excellent example that the company's headstart is much more fragile than it seemed.