7 Actually Useful Accessories Every M1 iMac Owner Needs
Fed up with the internet's recommendations, I wrote my own.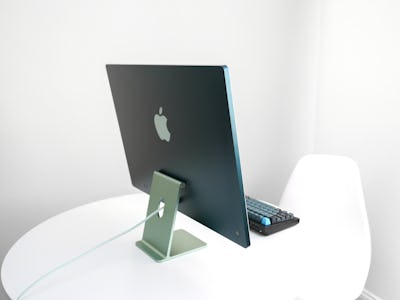 Photograph by Raymond Wong
We may receive a portion of sales if you purchase a product through a link in this article.
Word on the street is that Apple will finally refresh its 24-inch iMacs this summer, two years after introducing the redesigned all-in-one desktop in a slate of rainbow colors with the M1 chip. The second-gen iMac announcement is rumored for WWDC 2023 in June alongside the mixed reality headset headliner.
But I don't want to talk about whether the next iMac will have an M2 or M3 chip. I want to help you make your existing M1 iMac better as I did with mine. While Apple's all-in-one Mac has no user-upgradeable parts — Apple silicon is a performance blessing and a customization curse — there are a few ways to expand its built-in functionality or make it a more enjoyable computer to use.
Similar to my best MacBook Pro accessories and best free Mac apps guides, this guide was motivated by my dissatisfaction with existing "best iMac accessories" lists. So, what's a tech reviewer to do than write his own? That's what I did. The below products are ones I really like and can vouch for. Go hog wild with the Amazon knockoffs if you want, but remember that you get what you pay for.
7. Insta360 Link
The FaceTime HD webcam in the M1 iMac is serviceable, but it won't make you look like a million bucks, that's for sure. Enter the Insta360 Link, which doesn't look like your typical webcam because it works differently, too. The Insta360 functions like a webcam, but its 4K sensor also sits on a 3-axis gimbal that rotates and tilts to track and keep you in frame. Its mechanical camera design is better than Apple's Center Stage in every way. Image quality and autofocus are solid, and I like that the camera points downward after 10 seconds of inactivity.
6. Satechi USB-C Slim Dock
Look up "USB-C dock for iMac" and you'll find endless recommendations. I've tried a handful of USB-C docks for my M1 iMac, but always come back to Satechi's USB-C Slim Dock for its clean design and SSD expansion. The aluminum dock fits over the base of the iMac's stand while adding two USB 2.0 (USB-A) ports, a USB-A 3.2 port, a USB-C 3.2 port, an SD card and microSD card slot, and — the feature that sets it apart from others — an M.2. SSD slot. I popped in an unused 1TB M.2 SSD from an old PC and, boom, had more storage without using up an additional USB-C port. I do wish it came in colors other than silver and blue (I own a green iMac).
5. Belkin iPhone Mount for Mac desktops
In my MacBook Pro guide, I said Belkin's iPhone MagSafe Camera Mount was a must-have for using an iPhone as a webcam. This magnetic mount is the version for iMacs (bonus: also for Apple displays). It doesn't have the pop-out ring grip, but it works just as well. The magnet is strong; MagSafe-equipped iPhones can be positioned vertically or horizontally; the mount also tilts downward for Desk View. I have no complaints.
4. Keychron Q1 Pro
Pick whatever keyboard you want for your iMac, just make sure it's wireless, mechanical, and preferably has at least a knob. If you know me, you know that while typing on the included Magic Keyboard is fine, it's nowhere near as satisfying as pounding on a mechanical keyboard. A pre-built mechanical keyboard like the Keychron Q1 Pro is fully customizable with hot-swappable switches (I prefer reds and blues), RGB lighting, mappable using VIA or QMK software, and has a switch for toggling between macOS and Windows. For not a lot of money (compared to other premium mechanical keyboards), the Keychron Q1 Pro delivers. No surprise considering how much my former colleague Craig and I loved the Q1 and Q2.
For a more, check out our guide on the best mechanical keyboards, switches, and keycaps for Macs.
3. Anker 535 USB-C Hub
If you don't need as many ports or an SSD bay as on the Satechi USB-C Slim Dock, Anker's 535 USB-C hub should suffice. The 5-in-1 hub plugs into a single USB-C port and clips into the speaker grilles on the right side of the iMac for easy front access. It's got an SD and microSD card slot, and three USB 3.2 ports (two USB-A and one USB-C). I frequently download a lot of photos and videos I take with my mirrorless camera and I can't stress how much time I've saved not having to fiddle with dongles hanging off the back of the desktop.
2. Twelve South BackPack
I try to keep a tidy desk. The last thing I want is a hard drive (or stack of hard drives) hanging off the backside of my iMac. TwelveSouth's BackPack is dead simple: it's an aluminum shelf and plastic clip that snaps into the cable hole on the back of an iMac. It's strong enough to hold a few external hard drives/SSDs or USB-C or Thunderbolt hubs. My iMac is up against a wall and this little guy has kept all my storage hidden out of sight.
1. Logitech Lift Vertical Ergonomic Mouse
Logitech's MX Master 3 is legendary. I've used one for years and it continues to serve me well. Many years ago a former colleague introduced me to a vertical mouse. I forget the generic one he used, but when I recently started feeling light pain in my wrist, I decided to spring for a Logitech Lift Vertical Ergonomic Mouse. It took a few weeks to get used to mousing around with my hand in a handshake position, but I now get why my friend loves his so much: your hand is more relaxed. Trust me, it felt weird too, but once I adjusted to the orientation, it all made sense. It's still better than using the iMac's low-profile Magic Mouse.