The 10 Best EV Concepts From Japan Mobility Show 2023
Wild electric concept cars from Toyota, Nissan, and Honda are setting the groundwork for Japan's EV future.
by Michael Frank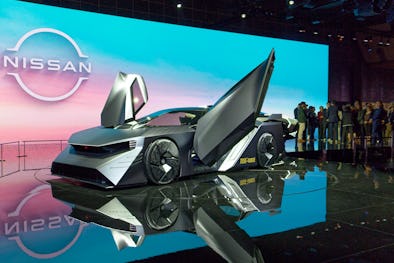 Photograph by Michael Frank
Japan's automakers may be behind the curve when it comes to production EVs you can buy right this minute, but if Japan Mobility Show 2023 is any indication, they aren't behind in their vibrant imaginings for the electrified future.
In short, that means concepts — lots of concepts. Japan Mobility Show (formerly the Tokyo Motor Show) has been teeming with prototypes and renderings from Japan's biggest brands that showcase all the exciting ways electric cars are going to change the game.
Given all the hype, we went to Japan to talk to storied automakers like Toyota, Nissan, and Honda, and ogle all the EV concepts from Japan Mobility Show 2023 that you don't want to miss.
Mazda ICONIC SP
Shrinking EV powertrains for sports cars remains a major challenge if you want a decent range. For the Iconic SP, Mazda imagines a hybrid power supply using its signature rotary engine — a Mazda characteristic they've pursued since the 1960s. The twist (so to speak) is that it's a plug-in hybrid. Mazda says this enables a very small gas engine and that in turn, it could make this Miata successor cleaner.
The theory of Mazda's case (viable or not) is also that this rotary engine could burn hydrogen, not gas.
FYI, this car is also nodding at past Mazdas like the RX-7 and RX-8, since it's a two-seat hardtop and about a foot longer than the current Miata.
Lexus LF-ZC
Only manufacturers Nissan, Toyota, and Lexus (the luxury arm of Toyota) really talked specifically about next-generation battery technology, which is critical to making smaller, lighter, and more power-dense powertrains. Lexus also talked about manufacturing, and specifically, the LF-ZC and LF-ZL will use what the carmaker calls gigacasting, which splits the vehicle body into three parts: front, center, and rear.
The idea is that a modular platform enables plugging in different components to make different scales of cars. Lexus also suggested that partially constructed cars, once they have wheels, could drive themselves through the assembly line, greatly reducing factory complexity.
As for the LF-ZC, Lexus touted a few features, including making a lot of the interior out of bamboo. Since bamboo is a kind of grass, it's more sustainable and has a lower carbon footprint than many other materials. And growing it absorbs CO2.
Lexus also suggested the LF-ZC would have a new kind of AI technology called "Butler," that would learn not just your driving style, but also your behaviors in the car, from what audio you like to where you go regularly. A lot of this tech is possible now, but only via driver input. Driving simulation capabilities could expand so that modes like "sport" and "comfort" could be more subtly adaptive to specifics of the way you drive, again through the use of AI.
Nissan Hyper Tourer
Since about the 1990s, minivans have suffered a serious stigma — but only in the U.S. The rest of the world understands that a low floor and tall roof maximizes people-and-stuff capacity, whereas tall-floored SUVs don't. Taken to the extreme, the Hyper Tourer envisions a world where autonomous driving and minivan capaciousness merge and a few of the notions packed into this formula are hardly impossible.
The first of these is solid-state battery power, which is on the way. The advantages include the use of far fewer toxically harvested minerals, such as cobalt, and a more compact footprint, which is one reason this concept doesn't have the higher floor height of current EVs.
In keeping with the Hyper Punk and Hyper Urban concepts Nissan also showed, the Hyper Tourer gets a folded and creased exterior, though you could argue that the longer body of the van design makes the pattern less overtly blocky and more organic. The typical lounge theme you'd expect from a big cabin is followed on the interior, but there are some boundary-pushing ideas, too, such as turning the floor into one massive flatscreen that can display themes according to the owner's taste.
Toyota FT-3e Crossover
Toyota is, like a lot of brands, pushing its battery tech and eventually, moving to a solid-state format that's both easier to manufacture, cheaper, and will result in faster charging and longer range in a more compact size. All of these innovations are critical to carmakers not only making EVs more affordable, but lighter. Bulky batteries mean EVs have been very heavy, and in turn, all the components have to be bigger and so does the car itself, making cars meaty and expensive.
The FT-3e is definitely a visible departure from the softer shapes of crossovers like the indistinctive RAV-4. A spokesperson for Toyota, Katsuhiko Koganei, confirmed the FT-3e is slated for production and that the scale of the battery technology "will be significantly smaller than the current version and higher performance." Interesting details include an LED panel on the exterior of the car that would signal facets of the car's "health," like battery charge, onboard temperature, and interior air quality. You'd get all this when the driver approaches the car with their key in their pocket.
Of course, that's possible via app, but as a convenience feature having this on the exterior of the car isn't a bad thought, especially as car display tech gets more sophisticated and ubiquitous. As for timing, Koganei wouldn't say precisely, but 2026 or later is a safe bet.
Infiniti Vision Qe
Technically, the Vision Qe isn't part of Japan Mobility 2023, since Infiniti is strictly an international brand and not a domestic Japanese one. Still, we got a look at it ahead of the show and this fastback "sedan," rather than a coupe, might easily share some components with the Nissan Hyper Force, the electrified GT-R concept that also debuted here.
There's no interior, by the way, and that tells you that this is a fairly early design study. But typically Infiniti and Nissan don't just show concepts and never build them.
As for the platform itself, Nissan continued to press that it's going forward in 2026 with so-called ASSB (All Solid-State Batteries), which global head of design Alfonso Albaisa said in a later meeting allows the two brands more freedom to build lower and more compact cars.
The Vision Qe, while exceedingly fluid, has razor-like LED fins at the nose and tail that sharpen the design and the LED hues themselves were specifically designed to be warmer than the bluish color common to the technology. Infiniti also makes a new "grille" out of LEDs at the front, spiritually suggesting the functional lattice required of gas cars but not of EVs.
Nissan Hyper Punk
Before the show, the Hyper Punk debuted digitally on a massive billboard in one of the most densely packed districts of Tokyo. It's also now available as one of the concept vehicles in the game Fortnite.
While Nissan calls the Hyper Punk a crossover, in some ways the form factor matters less, according to Nissan's VP of Global Design, Alfonso Albaisa. This car is more about a statement of purpose to rebel against the "jelly bean" shape demanded by current EVs' need to be wind-cheating. He says customers are going to push back against that sameness, and indeed this concept was born out of Nissan's design studio when a young designer started with geometric shapes and "decided not to smooth them out.." Apparently, the look was, "so fresh, that… it triggered a conversation in the company," Albaisa explained during a subsequent briefing after the car's debut on stage.
Nissan says biometric sensors can also evaluate your mood and alter both cabin lighting and music to match. If you're observing the car from the outside, you'll see a silver surface with myriad polygon folds. While this isn't much different in scale than the Hyper Adventure, some aspects, like a flip-up hatch to reveal the cockpit to the sky, seem unlikely for production. Then again, Nissan did make the Murano Cross Cabriolet, so you never really know.
Mitsubishi D:X
We had the rare chance to meet with the designer of the Mitsubishi D:X, Seiji Watanabe, which was the only interview he granted to media from the U.S. Watanabe revealed that it's his dream that this Plug-in Hybrid Electric Vehicle (PHEV) concept will actually be produced, and in part, it's not that far-fetched because Mitsubishi already makes PHEVs, so the powertrain isn't the issue.
As for scale, if it's playing tricks on you, that's because the roof box of the concept makes the D:X Concept appear exceptionally tall. In actuality, this isn't bigger than the long-wheelbase ID.Buzz that's coming from VW, though it has way more ground clearance.
Watanabe explained that that's because it's following in the footsteps of the long-loved (but not available in the U.S.) Delica, an SUV of legendary status. The D:X Concept takes a lot of those design cues, especially the muscularity and boxiness, Watanabe said, and moves those ideas into the future. For instance, there's a widescreen at the footwell of the cabin that would display obstacles on a 4x4 trail so the driver could more easily choose the way forward. In-car displays already show various outward views on SUVs today so this is easy to see hitting production.
Watanabe also explained that the materials and surfaces were chosen specifically so they wouldn't get grimy. He noted that a lot of Japanese people also #vanlife, hike, fish, ski, etc., and that van culture in Japan is exceedingly strong.
Subaru Sport Mobility
There was weird at this show for sure — and then there was Subaru. The Sport Mobility Concept, a kind of bad-ass looking, rally-inspired Batmobile had what could only be described as an equally odd and massive six-rotor drone floating above it. That would be the Air Mobility Concept, which to us looks about as likely for production as the land-based craft.
We say this knowing that, yes, Subaru, like all carmakers, is going electric. But the car felt under-designed compared to past Subaru concepts and even if the highly flared fenders and basic body shape do give off "Subie," they are so far out of sorts with everything else the carmaker is doing it's hard to see a fit for the future. Oh, yes, at some point Subaru needs to update its design ethos, but probably not in this direction.
Nissan Hyper Force
Nissan showed electric crossovers and a van in Tokyo, but the Hyper Force — a 1,341-horsepower reimagining of the gas GT-R supercar as a Le Mans-style EV — definitely stole the show. Nissan's VP of Global Design, Alfonso Albaisa, also joked that making a two-seater sports car is relatively easy, but they imagined the Hyper Force as a four-seater, which is harder. Nissan also teased the idea that you could use the car while stationary as a video game platform to race it in VR on the track the same way F1 drivers train today. Nissan even worked with Polyphony Digital, the developers of Gran Turismo, on some of the display tech in the show car.
What's not virtual, is a tremendous amount of study put in with Nissan's engineering and racing teams to maximize the downforce that would be possible in such a car, using what Nissan's learned in circuits like Formula E. Nissan says the Hyper Force would be constructed partially from high-strength carbon fiber. If the front signals something out of Robocop, circular red tail lamps are meant to pay direct homage to the GT-R.
Nissan imagines a fully immersive experience for the driver with four screens around the steering wheel offering real-time information about the car's condition, state of power and performance, etc. That's in racing mode: In normal GT mode those screens collapse back against the dash and become a useful infotainment interface.
Honda Sustaina-C
Through an interpreter, we learned from a few experts that the Sustaina-C's mission was to revive the original Honda Civic's ethos. Namely, to show an urban-focused EV that's exceedingly reliable and far more affordable than the current expensive crop of electric cars. Also, one that's sustainable, which is why Honda used recycled acrylic resin for the concept.
While Honda won't talk about timing or, sadly, if Americans will ever get a car this size (which is even shorter than a Mini Cooper), some of the design cues are definitely appealing and you could see how they'd scale fine for a four-door version — or any other Honda. For instance, the round headlights were designed with a slight eyelid from the hood. This is meant to make what Honda officials argue would be just a little too cute, have a slightly sharper visage.
Other super creative ideas include the logos on the body side and wheels, which use the equivalent of something like the luminescent faces that some timepieces have, that are charged by the sun.
And the hatch itself works as a touchscreen, so you could use this for entertainment but also, as a kind of rolling bumper sticker that's always changeable.