VW's ID. New Buzz Electric Minibus Is Bigger, Better, and Coming to the U.S.
The hippie bus is all grown up now.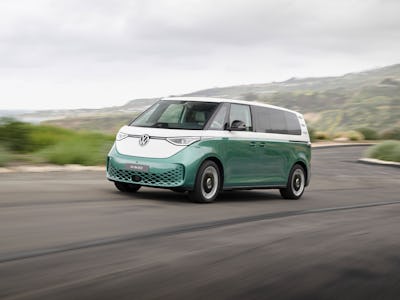 Volkswagen
Decades later and the Volkswagen Bus is still a cult favorite for its uniquely boxy look. Now, Volkswagen has revived its minibus as an all-electric seven-seater and is bringing it back to North American markets after a 20-year absence.
Volkswagen kept its retro two-tone design for the ID. Buzz, while incorporating some modern elements like a massive glass roof and next-gen infotainment system. Its retro-futuristic look feels appropriate and the minivan-esque form factor should allow it to stand out among the sea of all-electric crossovers and SUVs.
Of course, Volkswagen already released a smaller, five-seater and cargo van version of the ID. Buzz in European markets back in fall 2022. Since then, we've been patiently waiting for the electric minibus to make its way over stateside.
EXTRA ROOMY
With the ID. Buzz measuring 16 feet long, it was designed to accommodate a third row of seats and about 87 cubic feet of storage space. That way, the modern minibus can handle a cross-country family road trip just as well as hauling cargo by folding down the second and third rows of seats.
With the bigger build, Volkswagen put in a larger 85 kWh battery that powers the ID. Buzz's 210 kW electric drive motor. The rear-wheel drive ID. Buzz gets a max speed of around 99 mph while hitting 0 to 62 mph in around 7.9 seconds. Volkswagen didn't reveal any range numbers for this seven-seater version of the ID. Buzz yet, but the existing five-seater model gets around 263 miles according to its WTLP estimates.
It may sport a retro look outside, but Volkswagen put a lot of tech upgrades into the interior. The ID. Buzz will get a head-up display, a modern infotainment system, and a remote parking feature that's done through your smartphone. Volkswagen even went and made its largest glass roof yet that stretches 16 square feet above the front and second-row seats. The North American version of the ID. Buzz will also get air-conditioned seats and a lit-up Volkswagen logo.
COMING NEXT YEAR
Volkswagen says that it'll start delivering the first ID. Buzz vehicles to American customers in 2024. The automaker is also planning for an all-wheel drive version that has a more powerful 250 kW motor and can hit 0 to 62 mph in 6.4 seconds. This GTX version of the ID. Buzz is set to be announced later in 2024. Volkswagen will eventually launch this longer version of the ID. Buzz to European markets in June.
Volkswagen has a real shot at capturing a market in the U.S. that's saturated with crossovers and large SUVs. The ID. Buzz should satisfy those looking for something that's more along the lines of a minivan.