EVs Are About To Get Really Weird at Japan's Biggest Car Show
Honda, Nissan, and Toyota are playing catchup in the EV world, but what they lack in real-life EVs they're making for in imagination.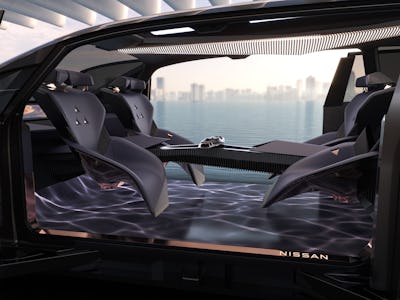 Nissan
Japan's annual Mobility Show hasn't even started yet — it starts on October 26 and runs through November 5 — but things are already getting weird regarding EVs.
Concepts from major Japanese brands like Toyota and Nissan are going to the moon; they're going boxy; they're going... wherever this is going.
It's exciting on multiple levels — not just because I love a wild concept; I do. It's also exciting to watch Japan's storied brands — often trendsetters in the automotive world — finally embrace the EV future.
And one thing is clear this time around about Japan's vision of the EV future — it's not future, future, it's directly on the horizon.
Concepts galore
Going whole hog on EVs isn't new in the automotive world. Brands like GM and Volvo have committed to electrifying their entire lineups throughout the course of the next few years and have already made a lot of progress in doing so.
But for Japan's brands, like Toyota and Honda, that progress has been slower to materialize. It's hard to say where that conservative approach (or maybe even resistance) to electrification has come from, but the writing on the wall at Japan Mobility Show 2023 and the event is shaping up to be more of a statement than a trade show.
At the center of Toyota's vision is a tandem of concepts that include a high-performance sports car, the FT-Se, and an electric SUV, the FT-3e. Both concepts, appear to be realistic, achievable entrants into the EV space. The grounded Toyota concept I'm most excited for, however, is Toyota's Land Cruiser SE, an almost cyber punk-ish, electrified version of the Land Cruiser that goes all out on a sleek, boxy, design.
These might not excite anyone looking for something overly futuristic, but those EVs aren't meant to be pie-in-the-sky vaporware. These are Toyota's near-future installments for the inevitable electric age.
Other major players like Honda are taking a similar approach. It's offering up concepts like the Specialty Sports Concept — a mysterious electric sports car that's slated for production — but also teasing robotaxis, an autonomous work vehicle, and for good measure, an electric vertical take-off and landing (eVTOL) vehicle.
Somehow, it still seems like Honda is taking the EV assignment less seriously than Toyota, but we'll have to wait and see what exactly it has in store before making a final judgment.
Finally, Nissan will offer its own vision of future electrified motoring with wild concepts like its Hyper Tourer, a van-like EV that emphasizes autonomous driving, a living room-esque interior, and AI for, um, monitoring your biometrics. Something tells me this one falls more on the Future side (capital "F" intentional).
One thing that is noticeable about EVs from all three brands is that there are very few options that you can buy today. Yes, Japan Mobility Show 2023 is the proverbial coming-out party, but it's clear that the EV machine isn't exactly well-oiled yet.
Toyota did get its bZ4X out of the gate in 2022, but a major recall that caused the SUV's wheels to fall off put a major damper on its momentum. Nissan offers its Ariya EV, but not much else. And Honda is gearing up to release its Prologue EV "sometime in 2024," and there's still its Afeela partnership with Sony, I guess.
One could look at the lack of real-life cars as a sign that Japanese auto brands still aren't taking EVs seriously, but I for one, am (for once in my life) choosing the more optimistic outlook.
Lessons learned?
Yes, Japan's auto brands are behind in the EV market. And yes, Japan Mobility Show 2023 is still mostly full of concepts, not actual production cars you can buy right now or in the near, near future.
But in some ways, that makes the show more exciting. While GM, Mercedes-Benz, VW, and Ford have plowed ahead in releasing a healthy array of EV options for potential customers to choose from, Japan's brands have mostly watched on the sidelines.
That's a bad thing for someone who wants a Honda EV and wants one now, but being late to the game isn't always a bad thing. That patience could also mean that brands have had time to synthesize the best of what makes EVs great.
I'll be interested to see what Japan's auto titans have learned from waiting, and watching, and taking a more Apple-like approach to entering the EV market. Maybe that means more future-forward EVs or maybe Toyota and Honda are still truly just playing catchup.
The beautiful thing about trade shows like this or CES is that you never really know what you're going to get, and that's just part of the fun. One thing Japan Mobility Show 2023 won't be is boring, and excitement is a feeling that EV enthusiasts can drive until the wheels fall off.