Honda's First EV in the U.S. is a Semi-Affordable Midsize SUV
The Prologue is a fitting name for Honda's first stateside EV.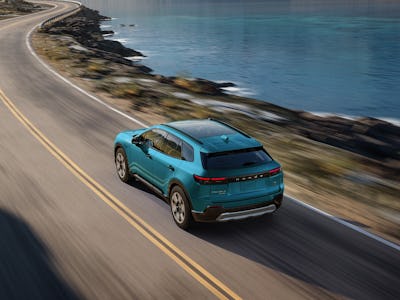 Honda
To make up for years of falling behind in the U.S. EV market, Honda is playing it safe by releasing an all-electric midsize SUV as its first offering. The Prologue will officially kick off Honda's attempt at breaking into the stateside market as a 300-mile range EV with a "neo-rugged" design. It looks like any other standard SUV out there, but we're just glad that Honda is finally making EVs in the U.S.
With just the Prologue so far, Honda falls behind other major car brands who have already established a solid presence in the U.S. Honda did get a little help from GM with the Prologue since it's built upon the Ultium platform that's also used for the Cadillac Lyriq and Chevy Blazer EV. Honda is working on its own e:N Architecture F platform that will make its debut with the very similar-looking e:Ny1 that's exclusive to Europe.
NEW DESIGN LANGUAGE
As for the Prologue, Honda says it's expecting an EPA-estimated range of 300 miles thanks to an 85 kWh battery pack. The Prologue's two motors will pump out around 288 horsepower and 333 lb-ft of torque, which is fairly powerful for a midsize SUV. The Prologue's battery can be charged at rates of up to 155 kW and will get up to 65 miles of range in around 10 minutes of charging. Honda even changed up its design language with a new name badge in the back.
The Prologue seats five and comes with USB-C charging ports for the front and second rows. Up front, the USB-C ports are located on a multi-use tray in the center console that can fit two smartphones and even has a wireless smartphone charger. The driver gets an 11-inch digital display, while the 11.3-inch center screen acts as a hub for all the Google built-in services. If you want to up the experience, the Prologue's more premium trim offers an additional heads-up display.
COMPETITIVE PRICING
Honda says it will start presales for the Prologue later this year, with the SUV's first deliveries expected in early 2024. The Prologue will come in seven exterior paint options and two interior options. While Honda hasn't revealed exact pricing details yet, it says the Prologue will start in the upper $40,000 range. That's a very competitive price range, though, as Honda will have to duke it out with the Kia EV6, Hyundai's Ioniq 5, and Ford's Mustang Mach-E, and many others.