Honda's New Compact SUV Is a Solid Template For Its EV Future
It has a much more tame design, but the e:Ny1 name doesn't exactly roll off the tongue.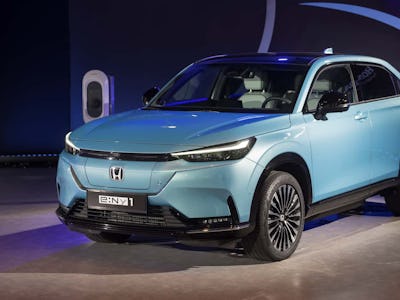 Honda
Honda is back with another EV in the ever-popular SUV segment. This time, it's offering a compact SUV that will be made available in Europe.
Honda's e:Ny1 will make for the Japanese carmaker's second fully-electric vehicle to arrive in Europe, following the Honda e. If you're not into the retro look of the smaller Honda e, the e:Ny1 offers a more standard SUV design that's inoffensive and pulls from its existing HR-V model.
HONDA'S OWN EV PLATFORM
While Honda does feel behind in its EV development, the automaker is using its own EV architecture for the e:Ny1. The e:N Architecture F platform is designed with front-motor-driven EVs in mind and likely explains the weird naming convention of Honda's latest EV.
The platform generates 150 kW of power and 310 Nm or torque. The e:Ny1 will have a 68.8 kWh battery that will give you around 256 miles on a single charge. Using a fast charger, the electric SUV will get around 62 miles in about 11 minutes of charging and will take around 45 minutes to get from 10 to 80 percent charge.
For the interiors, Honda is going with a 15.1-inch infotainment system that will serve as the centerpiece and is compatible with Android Auto and Apple CarPlay. The driver will get a 10.2-inch display that's customizable and the center console will offer wired and wireless charging.
On the outside, Honda is ushering in a new design language that you'll see with its use of white badges and detailing. There's even the Honda text in the back, similar to what we see with the upcoming Honda Prologue EV.
EUROPE ONLY
Considering this was revealed in Germany and designed for Europe, we're not sure if Honda has plans to bring the e:Ny1 to the North American market. According to Honda Sweden's landing page for the upcoming EV, it will start at 530,100 Swedish Krona, or around $51,000.
As for the U.S. market, Honda has only committed to making an all-electric version of the Prologue. Still, the Prologue EV that will come out in 2024 is being built atop GM's Ultium platform, and not this new e:N Architecture F platform.
So even with its new model coming to Europe, it still feels like Honda may struggle in catching up with competitors like Tesla or Hyundai that have taken over the American EV market. Honda is trying to at least expand its offerings and is working on a hydrogen fuel cell-powered CR-V and another EV in partnership with Sony.