Alfa Romeo Thinks its Full-Size Electric SUV Can Take On Tesla
It'll have to survive in a sea of large SUV options.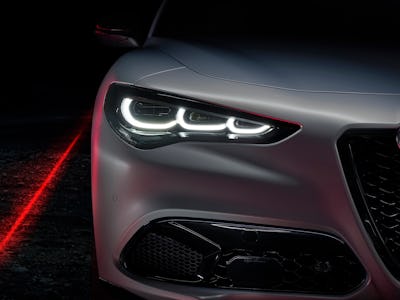 Alfa Romeo
Alfa Romeo wants to win over more U.S. customers and what better way to do that than with a full-size SUV? Larry Dominique, head of Alfa Romeo and Fiat's North American division, told The Drive that the Italian carmaker is looking into making an all-electric full-size SUV, specifically for the American market.
Considering its Italian roots, Alfa Romeo's models tend to lean towards the more compact sizing that's common in Europe. That recipe doesn't exactly mesh well with U.S. customers, who have more of an appetite for larger SUVs. Alfa Romeo understands this well and will be eventually offering an E-segment SUV that's meant to rival the Tesla Model X.
Dominique says Tesla is the "fastest-growing vehicle in the U.S." and that it's "kicking everyone's ass." However, Dominque tells The Drive that it doesn't want Alfa Romeo to conform to what other carmakers with U.S. offerings are doing.
BIG BET ON BIG SUVS
Dominique told The Drive that Alfa Romeo's full-size SUV will be designed and styled in Italy, but specifically developed for the U.S. customer. The upcoming EV will have its interior size, features, packaging, and tech designed for the North American market. Dominique is even expecting the U.S. to account for 70 percent of the sales of this full-size SUV.
Alfa Romeo's large SUV is still a few years out from hitting the road, so there weren't many specs shared just yet. Still, we can assume that Alfa Romeo will build use Stellantis' STLA Large platform that fits E-segment vehicles. That means it should achieve around 500 miles on a single charge. Stellantis, Alfa Romeo's parent company, also recently announced that it's starting to make EVs based on the STLA Large platform in its Italy plant, which will be sold under Alfa Romeo and Maserati branding.
ALL-ELECTRIC BY 2027
Alfa Romeo is planning to release its full-size electric SUV in 2027, falling within its goal of selling only all-electric vehicles by 202. To kick off its portfolio electrification, Alfa Romeo will introduce a hybrid crossover first, the Tonale, to the U.S. It may be a hybrid, but the Tonale is meant to help Alfa Romeo eventually transition to all-electric vehicles. To that end, Alfa Romeo will eventually electrify its flagship sedan, the Giulia.
After all that, Alfa Romeo will focus on putting out the larger SUV. Since we're still a few years out, Stellantis' other brands are similarly electrifying their portfolio. While Alfa Romeo wants to cater to the U.S., Jeep is actually doing the exact opposite, debuting its first all-electric offering in Europe first.