Kia's Full-Size EV9 Electric SUV Has a Massive Amount of Cargo Space
The full-size electric SUV also comes with modern tech like digital key access.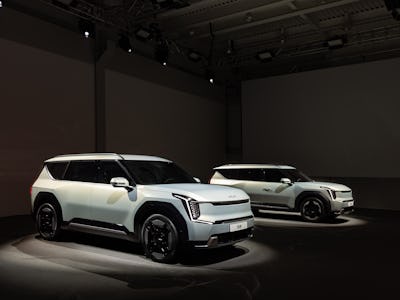 Kia
Kia's full-size electric SUV, the EV9, has finally made its physical debut at the 2023 New York International Auto Show. The carmaker has been slowly building the hype for its first all-electric three-row SUV, but we can now finally see what this boxy build looks like in person.
The EV9 follows up on Kia's EV6 all-electric crossover, which has set the tone for its EVs. While the EV6 comes in a more compact design, the EV9 was designed specifically for hauling up to seven passengers in a roomy, comfortable format. There are already some three-row electric SUVs out there from higher-end brands, but we're expecting the EV9 to compete in a more affordable bracket against the likes of the Volvo EX90 or the upcoming Hyundai Ioniq 7.
Unlock Boost Feature
Like Kia's other EVs, the EV9 will run on the Electric-Global Modular Platform (E-GMP) platform that houses a battery that can go from 10 to 80 percent charge in less than 25 minutes. We still don't have confirmed range numbers, but Kia says we can expect more than 300 miles on a full charge.
At launch, Kia will offer the EV9 in two powertrain configurations with either a 76.1 kWH battery or a 99.8 kWh battery. The EV9 doesn't have the fastest acceleration, with a 0 to 62 mph in 8.2 seconds for its 76.1 kWh battery, but Kia will have a dual-motor EV9 that goes from 0 to 62 mph in six seconds and can be further upgraded via an optional "Boost" feature through the Kia Connect Store.
With its full-size design, the EV9 comes in six- and seven-seat configurations, where the second row gets power-operated leg rests, 8-way power adjustments, and heating and cooling. The EV9 measures 197.4 inches long, making it longer than Kia's mid-size SUV, the Telluride. With all the seats up, there's 20.2 cubic feet of cargo space, but with both rows folded down, that expands to have a total of 81.9 cubic feet.
The roomy interiors are paired with some tech features that make life a lot easier. The electric SUV supports a Digital Key, which lets you open, drive, and lock the car with a compatible device. You can even text over a Digital Key to someone who needs to borrow the car. The EV9 also has an onboard power generator with V2L functionality, meaning you can power external devices like power tools or camping equipment.
ON SALE SOON
Now that the EV9 has officially debuted, Kia is expected to start selling these in the U.S. in the fourth quarter of the year. Kia says it'll start production of the EV9s in its Georgia plant in 2024. We're still waiting for official pricing, specific trim details, and confirmed range numbers from the EPA, but we can expect the EV9 to be much cheaper than other full-size SUVs like the Mercedes-Benz EQS SUV or the Tesla Model X.
If the EV9 is too big for your tastes, Kia is still working on its smaller EV5 model that we just saw a concept of. The EV5 may still get the swiveling seats we see in the EV9, just in a smaller, compact SUV form factor.