Tesla's New Model S Plaid Package Unlocks The EV's Supercar Potential
The Track Package allows the Model S Plaid to hit a top speed of 200 mph.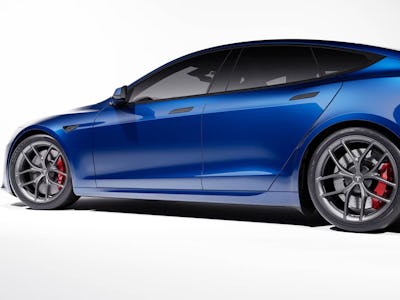 Tesla
Tesla's Model S Plaid is already a rocket with a 0 to 60 mph in less than two seconds. Now, Tesla has unlocked the sporty sedan's top speed of 200 mph with its Track Package upgrade. The mods include upgraded brakes, wheels, and tires and are meant to make the Model S Plaid more stable, corner better, and have better braking power, all of which make for a perfect day at the track.
Those who follow Tesla will remember that the Model S Plaid was announced back in 2021 with a 200 mph top speed. When Tesla's performance EV was released later that year, it delivered with a much more modest top speed and later hit 175 mph when Tesla released a "Track Mode" for it. Now, this new Track Package has everything you need to push your Model S Plaid to the limits.
PURE PERFORMANCE
The Track Package will outfit your Model S Plaid with aluminum forged wheels, track-ready tires and brake fluid, carbon-silicon carbide rotors, and one-piece forged calipers with high-performance brake pads. The upgraded rotors can handle heat better and there's a ceramic friction layer covering it that will reduce brake dust, corrosion, and wear, even improving how the pedal feels for daily driving.
Tesla will also swap out Model S Plaid's wheels and tires with Zero-G Wheels and Goodyear Supercar 3R tires. Tesla notes that if you're going to use your Model S Plaid upgraded with this Track Package for daily driving, you should consider different wheels since they aren't designed for winter weather at all. The Track Package is also only compatible with Model S Plaid models that were produced in 2021 or later.
UPGRADE OR PAYWALL?
If you want to soup up your Tesla Model S you can purchase the Track Package through the Tesla app. The package options start at $15,000, which includes just the carbon ceramic brake kits. If you want the entire kit that includes the upgraded brakes, wheels, and tires, you're looking at a $20,000 price tag. Alternatively, you can just get the upgraded Zero-G wheels and Goodyear tires for $6,000. The Track Package will be available in June.
Looking across the industry, Tesla isn't the only one to offer a speed boost via an upgrade package. Mercedes-Benz made the controversial decision to offer an "Acceleration Increase" for its EQ models for a pricey $1,200 annual subscription. It's not just the higher-end models that have fallen victim to this pricing model. Kia is also offering its upcoming EV9 with an optional "Boost" feature that's available through the Kia Connect store.