Hyundai Ioniq 6 Drive: Tesla Model S Range at Model 3 Pricing
An emphasis on aerodynamics makes Hyundai's Ioniq 6 electric sedan a winner in looks, range, and pricing.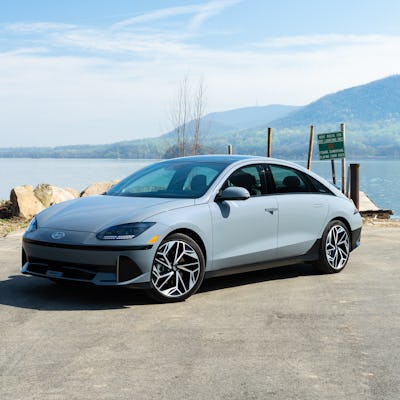 Photograph by Tim Stevens
If you want proof of how important a car's platform can be, look at the wealth of great EV options in the Hyundai Motor Group family. The Hyundai Ioniq 5, Kia EV6, and Genesis GV60 are all great EVs, each with its own subtly different nuance, each built on the same E-GMP platform. That means they all share the same basic battery pack and motor selection.
The latest addition to that family is the most radical yet, literally taking E-GMP farther than any before. It's the Hyundai Ioniq 6 and it'll do a remarkable 361 miles on a single charge. To get more than that you'd have to step up to something like the Tesla Model S, which currently starts at $84,990.
The Ioniq 6 starts at $45,500.
That's a remarkable feat to begin with, made even greater by the fact that this is more than just a long-range play. The Ioniq 6 is fun to drive, comfortable to be within, and striking to behold. It's the complete package, and after spending a day sampling a few different versions of the car on some familiar roads, I'm no less impressed.
Let's start with the basics. The Ioniq 6 is available in a few different trim levels with varying levels of power, range, and luxury. If you want that maximum range you'll actually want to buy the cheapest of the bunch, the $45,500 Ioniq 6 SE Long Range model.
This has just a single motor driving the rear wheels, giving 225 horsepower and 258 pound-feet of torque. Those wheels are 18 inches in diameter, aerodynamically shaped and wrapped in low-rolling-resistance tires to help eke out all that range.
But none of that is substantially different than what you can find on the Ioniq 5. In fact, the Ioniq 6 uses the same 77.4 kwh of battery capacity. So why does this go 58 miles farther on a charge than the longest-range Ioniq 5?
It's all about the aero. The Ioniq 6 offers a slippery 0.22 coefficient of drag compared to the boxier, Ioniq 5's 0.288. That may not sound like much, but given the nuances of aerodynamics, that difference means Hyundai's latest sedan cuts through the wind far more efficiently.
Quietly, too. The Ioniq 6 on the highway is smooth and still, an effect helped by a relaxed suspension tune. It does feel a bit more nimble than the bigger Ioniq 5, but far from engaging. That's doubly so in the lowest-spec Ioniq 6. To be clear, 225 hp isn't bad by any means, especially in an EV with instant throttle response, but above 30 mph the acceleration in this model is as relaxed as the steering and the rest of the handling.
If you want something quicker, there's the 320-hp, 446-lb-ft dual-motor all-wheel-drive flavor of the Ioniq 6. I drove a Limited, which adds in a few other perks like a panoramic glass roof and vegan leather interior. It also had a higher sticker price to match: $52,600.
This car surges away from traffic lights and stop signs with far more aggression, slotting into gaps in traffic without hesitation and doling out whiplash to your passengers if you're not careful. That handling is still subdued, though perhaps a bit sharper thanks to the bigger, 20-inch wheels. All that extra performance will cost you, though, with an EPA-estimated range of 270 miles.
That's a significant downgrade over the RWD flavor of the Ioniq 6, but still 50 more than a comparable Ioniq 5, again showing the power of aerodynamics.
The AWD Ioniq 6 uses a few other tricks to bolster its longevity. There's a disconnect on that front motor, meaning the car can drive as RWD-only for maximum efficiency when you're just cruising. It also features a heat pump, which means it'll keep the cabin warm in cooler temperatures far more efficiently.
There are even active aerodynamic flaps on the nose of the Ioniq 6 that open when the car needs extra cooling, closing again when range is the priority. That's just one of dozens of futuristic details to spot on this wild-looking car.
When Mercedes-Benz went aero mad on the EQS sedan, the result was a sort of shapeless car that disappears into parking lots. That's a critique that cannot be applied to the Ioniq 6. It will absolutely turn heads, either thanks to its wild shape or the unexpected details, like the semi-transparent spoiler, or the 700 tiny pixels, scattered throughout the machine.
It looks like absolutely nothing on the road and, while it may cause as much confusion as admiration among those who see it drive by, it always evokes a reaction. Hyundai's latest cars are a lot of things, but they're not boring.
Things are a little less radical on the inside, but still distinctive. The overall layout is much the same as on the Ioniq 5, with dual, 12.3-inch displays stuck together at the hip to form a sort of continuous gauge cluster and infotainment system.
Hyundai's familiar infotainment system runs in the middle, basic but clean and snappy, giving you access to all the information you need plus Android Auto and Apple CarPlay. Wired only, curiously, but the Ioniq 6 does feature OTA updates, so maybe that tether will be dropped in the future.
The way the rest of the dash flows around and into the doors is distinctive and dramatic, standing waves of plastic on the door cards to provide the sort of texture and depth you don't often see in cars in this class. The materials are occasionally harsh and brittle feeling here and there, but overall even the cheapest Ioniq 6 is extremely comfortable, quiet, and calm.
There are some drawbacks, though, necessitated by that extreme aerodynamic shape. The first is rear-seat headroom. Tall adults will fit, and there's plenty of legroom, but they won't be able to sit up straight. That gets uncomfortable quickly.
The other problem is trunk space. The Ioniq 6 offers just 11.2 cubic feet of the stuff, situated in a narrow, low trunk. The rear seats do split and fold down, but this simply is not a car for those who need to haul a lot of stuff. It's a shame this isn't a hatchback or wagon or some other slightly more practical shape, but then it wouldn't be quite so aerodynamic, either, and that of course is the main appeal of the Ioniq 6.
Hyundai has yet another E-GMP winner here. The Ioniq 6 is a fantastic EV and one that brings the luxury of calm, quiet driving and big, big range home at a reasonable price. If it fits your life, or rather if your life fits within it, it's a great choice.
Photographs by Tim Stevens