Ford's Battery Gamble Made its Mustang EV Cheaper and More Efficient
Switching to lithium iron phosphate batteries brings a bunch of benefits.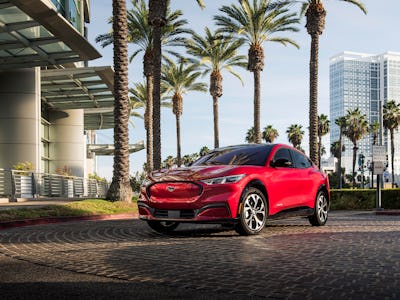 Ford
For those who didn't catch the first wave of Mustang Mach-E orders, Ford is opening it up again. This time, the automaker is building its all-electric SUV with a different battery that comes with several benefits. Instead of the current nickel cobalt manganese battery chemistry, Ford is going with a lithium iron phosphate alternative.
For drivers, the new battery means a Mustang Mach-E with more horsepower, more range, and faster charge times. For Ford, the lithium iron phosphate batteries are easier to produce so it can ramp up production and lower the price of its EV. Here's everything you need to know about Ford's new battery for the Mustang Mach-E.
WHAT BATTERY WILL THE NEW MUSTANG MACH-E USE?
As mentioned earlier, Ford is switching over to a lithium iron phosphate battery, LFP for short, with the standard range models of its Mustang Mach-E. LFP batteries aren't new, but it's the first time Ford is using them, replacing the nickel cobalt manganese battery, or NCM, that powers its current EVs.
Ford is also planning to swap over to LFP batteries for its F-150 Lightning pickup truck in 2024. To support this switch over to LFP batteries, Ford invested $3.5 billion into building an LFP battery plant in Michigan.
WHAT'S THE DIFFERENCE BETWEEN BATTERIES?
As Ford puts it, LFP batteries have a longer lifespan, cost less to make, and the materials are more readily available. Those benefits don't come for free though, since LFP batteries do have some downsides, including worse cold weather performance, less power output, and less energy density than its NCM counterpart.
NCM batteries are still better when it comes to traveling long distances, towing or transporting heavy cargo, and in cold weather scenarios. But, for most of its customers, Ford feels like the ability to charge faster and last longer is enough reason to switch its Mustang Mach-E over.
HOW DOES THE NEW MUSTANG MACH-E PERFORM?
Powered by the LFP battery, Ford actually managed to get an additional 45 horsepower with the new Mustang Mach-E. The new battery chemistry also means an increased range to a targeted EPA-estimated range of 250 miles for its rear-wheel drive models and 226 miles for its all-wheel drive options.
The new battery even lets the Mustang Mach-E charge faster, going from 10 to 80 percent charge in 33 minutes, shaving off five minutes from the previous model. Unlike NCM batteries that like to top out at 80 percent charge, the updated Mustang Mach-E can be charged to 100 percent more frequently with home chargers.
WHY DOES IT MATTER?
Now that Ford is using LFP batteries to power its Mustang Mach-E, there should be more availability for customers. Ford still wants to catch up to the demand seen with the Mustang Mach-E, even after having previously ramped up production. Now with LFP batteries, Ford also doesn't have to rely so much on materials that are prone to shortages, like nickel.
Since LFP batteries are also cheaper to produce, Ford is trickling down those savings to its customers. With the updated Mustang Mach-E, the prices have dropped as much as $4,000 for certain models. The standard range rear-wheel drive option now starts at $42,995, representing a $3,000 price change from its original $45,9995 price tag. At the top of the range, Ford dropped the price of the GT all-wheel drive extended range model from $63,995 to $59,995.
DO OTHER EVs USE LFP BATTERIES?
Unsurprisingly, Ford isn't the only one to switch over to LFP batteries. Its competitors, including Tesla and Rivian, are also taking advantage of the different battery chemistry. Tesla announced it would switch over to LFP batteries for its standard-range models in fall 2021, while Rivian is also planning to switch to LFP batteries across its EV offerings.
As for Ford, it's planning to use both battery chemistries to produce its EVs. It's possible that Ford will use its NCM battery chemistry for long-range models since they're better suited for that purpose. We're not sure, however, if Ford is planning to be transparent about which models will house which batteries, with Ford telling PCMag that consumers won't get to choose. So now, the tricky part will be figuring out which battery your Mustang Mach-E has.