Chevy's Blazer EV Isn't As Affordable as We'd Hoped
The most affordable Blazer EV you can get right now starts at around $57,000.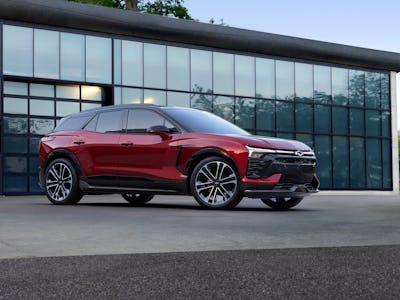 Chevy
It may not be Chevrolet's first EV, but the Blazer EV is the automaker's first offering built on GM's Ultium platform. Chevy officially started deliveries of its Blazer EV, with the first models shipping out to dealers from the GM's plant in Mexico.
With deliveries starting, Chevy also revealed the pricing on a number of more expensive Blazer EV trims, which are around $9,000 more than the EV's initially-revealed pricing for its FWD trims. With that, we have the most expensive model of the Blazer EV that's currently available hitting nearly a $62,000 starting price.
MAJOR PRICE HIKES
According to Chevy, the 2LT and the RS AWD trims of the Blazer EV will get 279 miles on a full charge. The RS RWD model will get significantly more range with a max range of 320 miles but also start at $61,790. As for the 2LT AWD model, it will now start at $56,715, while its FWD trim was first announced at $47,595. The RS AWD model will start at $60,215, compared to the first-revealed FWD pricing of $51,995.
With the most affordable model of the Chevy Blazer EV at $56,715 currently, it's surprising that the Blazer was once expected to be the closest successor to the affordable Bolt EV when GM announced it was discontinuing its oft-recommended compact SUV. GM did walk back its decision to discontinue the Bolt, instead deciding to update its first EV with the Ultium platform.
What's more surprising is that Chevy first revealed the Blazer EV to start at $44,995 for the base 1LT trim back in 2022. Since then, Chevy will no longer make the 1LT trim and instead offer the 2LT trim in FWD as the entry-level model. Chevy told Inverse that it wanted to simplify the Blazer EV lineup and that Chevy saw little interest in the 1LT trim from the reservations.
PERFORMANCE TRIM
Chevy is also planning a SS trim for the Blazer EV, which will be Chevy's first SS model for an EV. The Blazer EV SS is expected to put out 557 horsepower and 648 lb-ft of torque and will start production in spring 2024. Chevy says it'll provide further details on pricing and availability on the remaining Blazer EV trims closer to their launch dates next year.
As for the models with the pricing confirmed, Chevy says the Blazer EV in the RS AWD trim is due out this summer, while the RS RWD and the 2LT AWD models will begin production this fall.