Lexus' First EV Tries to Pick Up the Pieces of Toyota's Botched bZ4x
The first all-electric model from Lexus is based on its popular SUV lineup that already offers hybrid options.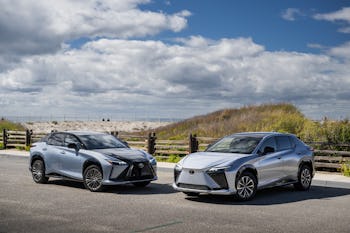 Lexus
Toyota may have gotten off to a rough start with its overall electrification efforts, but it's trying once more through Lexus. Lexus announced its first all-electric EV, the RZ 450e, adding to a lineup of hybrid and plug-in hybrid models. This mid-size SUV represents Lexus' first battery-powered EV and it takes on a form factor that Lexus has a lot of experience with.
In the mid-size, mid-price SUV segment, the RZ 450e will face stiff competition from upcoming models like Kia's EV6 and Volvo's EX90, along with existing best-selling models like Tesla's Model Y.
There's a lot at stake here for Lexus and its RZ 450e. Being its first all-electric model, it could either set up Lexus for a speedy break into the market or struggle with reliability and reputation, much like its parent company did. Set to be Toyota's first move into full electrification, the bZ4X SUV was recalled and made eligible for a full refund just a few months after its release in the spring.
MIDDLING RANGE
There's no telling if Lexus runs into the same mishap as Toyota's bZ4X, but it's built on a new e-TNGA platform. The platform houses a 96-cell lithium-ion battery pack, which delivers 308 horsepower and gives drivers 0 to 60 mph in five seconds. The 71.4 kWh battery can only manage a max range of 220 miles, though. That range falls far short of the competing SUVs in the price segment, like the Model Y's estimated 330-mile range.
The RZ 450e can charge up from zero to 100 percent in around 9.5 hours with a Level 2 charger, but from zero to 80 percent in approximately 30 minutes with a DC fast charger.
The EV's exterior follows mostly the same design cues as Lexus' RX lineup while incorporating some more aerodynamic elements like a redesigned roof, trunk, undercover, and a grille with a shutter that closes to reduce air resistance.
Inside, Lexus put in a panoramic glass roof, a 10-inch heads-up display, and a 14-inch touchscreen as the main display. The RZ 450e includes a bunch of safety features like the Pre-Collision System that will automatically activate emergency brakes if a collision is expected. There's also the Proactive Driving Assist, which gently brakes going into a curve or when controlling the distance between the vehicle in front, and Road Sign Assist that detects road signs and displays them on the car's display.
ON SALE NOW
Lexus is already building the RZ 450e in its plant in Japan but has also put the EV on sale already in limited quantities. All the models are all-wheel drive, but there will be three options at launch. The premium edition with 18-inch wheels starts at $59,650, while the version with 20-inch wheels starts at $60,980. The luxury trim of the RZ 450e has some extra touches like better quality interior materials and more color options.
Lexus' starting price for its RZ 450e is about on par with several mid-size electric SUVs. Of course, the hurdle for Lexus is that this all-electric SUV is the brand's first to market, while other car brands have already established a reputation in the EV world. The competition is stiff, with potential buyers looking at Hyundai's Ioniq 5 or Ford's Mustang Mach-E. All we're hoping for is that Lexus doesn't stumble as Toyota did.